M.F.A. Artist Talk with Andrea Morales
-
-
M.F.A. Artist Talk with Andrea Morales
When:
April 12, 2021 @ 6:00 pm – 7:00 pm
2021-04-12T18:00:00-05:00
2021-04-12T19:00:00-05:00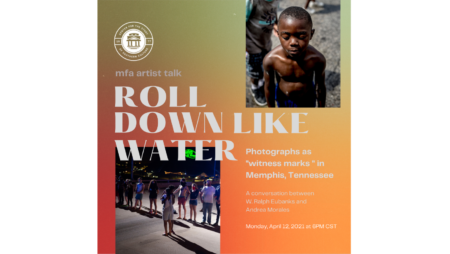 Join M.F.A. candidate Andrea Morales in discussion with Ralph Eubanks as she discusses her thesis project "Roll Down Like Water."
Andrea Morales is a documentary photographer and journalist born in Lima, Peru and raised in Miami, Florida. Her personal work attempts to lens the issues of displacement, disruption, and everyday magic. Adding glimpses of daily life to the record is central to how she makes work. While earning a B.S. in journalism at the University of Florida and an M.A. in visual communication at Ohio University, she worked as a photojournalist in newsrooms including the New York Times and The Concord Monitor. She is currently a producer at the Southern Documentary Project, an institute of the Center for the Study of Southern Culture at the University of Mississippi and the visual director for the MLK50: Justice Through Journalism.
W. Ralph Eubanks is a visiting professor of Southern Studies, English, and the Sally McDonnell Barksdale Honors College. Eubanks is author of "The House at the End of the Road: The Story of Three Generations of an Interracial Family in the American South" and "Ever Is a Long Time: A Journey into Mississippi's Dark Past," which Washington Post book critic Jonathan Yardley named as one of the best nonfiction books of the year. Eubanks's most recent book "A Place Like Mississippi" was published in March 2021.