About the Gallery
The Gammill Gallery is located in the west wing of Barnard Observatory. Named for Lynn and Stewart Gammill of Hattiesburg, Mississippi, longtime supporters of Southern Studies at the University of Mississippi, the Gammill Gallery hosts a variety of exhibitions devoted to documentary photography of the American South.
The Gammill Gallery has featured the work of numerous photographers, including Bern and Franke Keating, Birney Imes, Jack Kotz, Todd Bertolaet, David Wharton, Wiley Prewitt, and Jane Rule Burdine. Each year, the Gallery exhibits works produced by students in the Southern Studies program.
The Gammill Gallery is open Monday through Friday, 9:00 a.m. – 5:00 p.m., except for University holidays. For more information, contact us.
Current Exhibit:
Have Camera, Will Travel
Highlights Individual Students' Visions of Mississippi
On view at the Gammill Gallery now.
The photographs in this exhibition are from David Wharton's Spring 2019 Southern Studies Seminar in Documentary Photography. The semester-long assignment allowed for students to envision and construct an individual documentary photography project based in North Mississippi. There were three students in the class: Elliot Grime, Katherine Aberle, and Madison Aman. Each contributed a significant number of photographs to the exhibition, along with project descriptions or artist's statement.
Elliot Grime
This collection is a challenge to normative understandings of the state of poverty in Mississippi. Only tiny drops in the ocean, these photographs show how poverty affects the individual, the family, the mom and pop. It is easy to think of the impoverished as a collective, a statistic of a much larger population, and that makes it easier to drive past abandoned homes, stores, and cotton gins, forgetting that someone once made a living on that property or someone once lived in that house. I became interested in these locations because they are something I'd never experienced before. I'm an outsider to Mississippi, and I'm an outsider to the United States. I never expected to come here and see how unaffected most people are by these constant reminders of poverty that litter the Mississippi roadside. And as much as those in poverty so often become just another part of the state's statistics, the physical reminders of those people and their loss have become a part of the state's landscape.
Katherine Aberle
Katherine Aberle spent much of the Spring 2019 semester exploring the community of Marks, Mississippi, about forty-five miles west of Oxford. Marks is the county seat of Quitman County, one the most economically challenged counties in the Mississippi Delta. She made many photographs there, both of people and the physical environment. Some of those images are included in this exhibit.
Madison Aman
There are currently no professional sports teams in the state of Mississippi. However, that does not mean that athletes are not active and thriving throughout the state. This series features several different "below-the-radar" sports, including Little League baseball, high school tennis, collegiate women's basketball, English horse riding (otherwise known as equitation), powderpuff football, and barrel racing. In these images, I hope you are able to recognize the hard work people of all genders, ages, and races throughout the state of Mississippi display through their athletic talents, skills, and competitive spirits.
(Below) Tallahatchie County, Mississippi, by Elliot Grime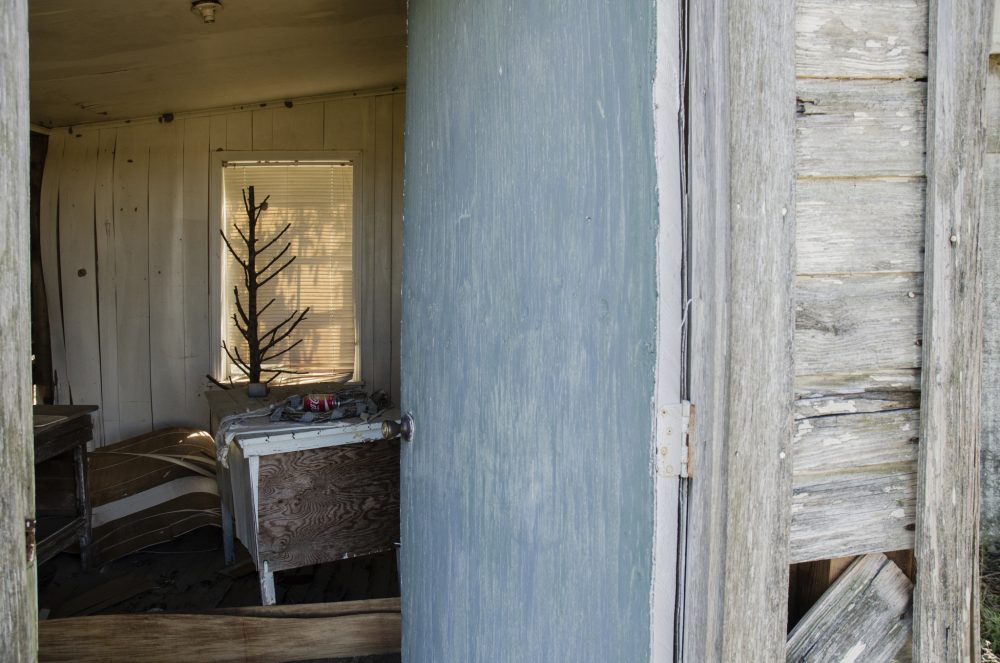 Quitman County Courthouse, Marks, Mississippi, by Katherine Aberle
Little League, Oxford, Mississippi, by Madison Aman