Feb
21
Wed
Visiting Documentarian Series: Kim Rushing

@ Tupelo Room, Barnard Observatory
Feb 21 @ 5:30 pm – 6:30 pm
On Wednesday, February 21 at 5:30pm, documentary photographer Kim Rushing will give a public talk as part of a series of visiting documentarians. Each documentarian will also meet with graduate students in the Center's MFA in Documentary Expression.
R. Kim Rushing has taught photography at Delta State University for twenty-three years. He holds an M.F.A. from the University of Texas at Austin.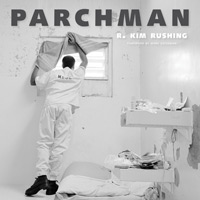 He will discuss his 2016 book Parchman, a powerful first-hand witness to the prison experience in Mississippi's sprawling penitentiary farm. Constructed in 1904, the Mississippi State Penitentiary at Parchman covers 20,000 acres, forty-six square miles, in the heart of the Mississippi Delta. Originally designed like a private plantation without walls or guard towers, the prison farm has been slowly transformed over the decades into a modern penitentiary. In 1994, photographer R. Kim Rushing was the first outside photographer in Parchman's history allowed long term access to inmates and the chance to photograph them in their cells and living quarters after earning great trust with his subjects. In Parchman he offers a glimpse of the men incarcerated in this infamous place. Eighteen volunteer inmates, ranging in custody level from trustee to death row, are presented through images and their own handwritten letters. When Rushing started this work, he brought visceral, human questions. What is it like to be an inmate in Parchman Penitentiary? What happens to an individual there? How does it happen? How do the prisoners feel about their circumstances? What does it feel like when two people from completely different worlds look at each other over the top of a camera?
Moving to Ruleville, Mississippi, a small town in the heart of the Delta, Rushing came face to face with the influence of Parchman State Penitentiary. After becoming known in the area, he was allowed to photograph inmates for almost four years. These men volunteered and permitted him to photograph them in their cells. They even shared their written thoughts about their lives and prison conditions. It is particularly fascinating to see the visible change, or lack thereof, that becomes obvious when viewing portraits separated by two or three years.
These stark, moving portraits of prisoners attest to the impact of photography. The photos are accompanied by the prisoners' stories, told in their own words. Together the images and words provide the most complete understanding of Parchman ever published.
Apr
10
Tue
Visiting Documentarian Series: Emily Yellin and Darius Williams

@ Tupelo Room, Barnard Observatory
Apr 10 @ 5:30 pm – 6:30 pm
On Tuesday, April 10 at 5:30pm in Barnard Observatory, Emily Yellin and Darius Williams will give a public talk on their project Striking Voices, which tells the story of the 1968 Memphis Sanitation Workers' strike. From late March to early April, the Center's Gammill Gallery will exhibit a series of portraits by Darius Williams that are part of the project.
Striking Voices is a multimedia journalism project centered around in-depth video interviews with the 1968 Memphis sanitation strikers and their families. The photos, taken between 2015 and 2017 after each interview, are meant to portray the real, relatable people from that historic time, but also to show how present these heroes are in our modern lives.
Journalist, producer and author Emily Yellin and the Striking Voices crew are in the process of producing a series of video stories, based on their interviews, that will focus on the lives of these men and women who were on the front lines of an iconic American battle.
Striking Voices will roll out in the first four months of 2018 on TheRoot.com.