Apr
12
Mon
M.F.A. Artist Talk with Andrea Morales

@ Online
Apr 12 @ 6:00 pm – 7:00 pm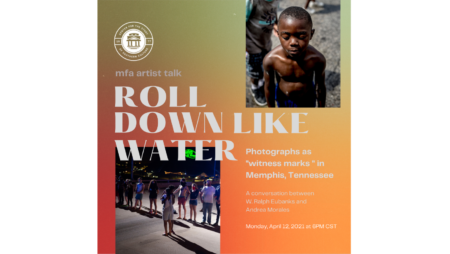 Join M.F.A. candidate Andrea Morales in discussion with Ralph Eubanks as she discusses her thesis project "Roll Down Like Water."
Andrea Morales is a documentary photographer and journalist born in Lima, Peru and raised in Miami, Florida. Her personal work attempts to lens the issues of displacement, disruption, and everyday magic. Adding glimpses of daily life to the record is central to how she makes work. While earning a B.S. in journalism at the University of Florida and an M.A. in visual communication at Ohio University, she worked as a photojournalist in newsrooms including the New York Times and The Concord Monitor. She is currently a producer at the Southern Documentary Project, an institute of the Center for the Study of Southern Culture at the University of Mississippi and the visual director for the MLK50: Justice Through Journalism.
W. Ralph Eubanks is a visiting professor of Southern Studies, English, and the Sally McDonnell Barksdale Honors College. Eubanks is author of "The House at the End of the Road: The Story of Three Generations of an Interracial Family in the American South" and "Ever Is a Long Time: A Journey into Mississippi's Dark Past," which Washington Post book critic Jonathan Yardley named as one of the best nonfiction books of the year. Eubanks's most recent book "A Place Like Mississippi" was published in March 2021.
Dec
1
Wed
SouthTalks: Road through Midnight: A Civil Rights Memorial

@ Online
Dec 1 @ 12:00 pm – 1:00 pm
Road through Midnight: A Civil Rights Memorial
Jessica Ingram and David Wharton
Jessica Ingram's Road through Midnight: A Civil Rights Memorial was shortlisted for the 2020 Paris Photo-Aperture Foundation First PhotoBook Award and named one of the New York Times Best Art Books of 2020. The result of nearly a decade of research and fieldwork, Ingram's work unlocks complex histories of the civil rights era, reframing commonplace landscapes as sites of both remembrance and resistance—as the fight for civil rights goes on and memorialization has become the literal subject of contested cultural and societal ground.
Ingram works with multimedia and archives to explore the ethos of communities and notions of progress and resistance in American culture. Raised in Tennessee, she received her BFA from NYU's Tisch School of the Arts and her MFA from California College of the Arts. Her work has been featured in the New Yorker, the New York Times, Oxford American, Vice, Wired, NPR, and as an official selection at the Sundance Film Festival.
In this SouthTalk about her work and on Road through Midnight, Ingram will be in conversation with assistant professor of Southern Studies and director of documentary studies David Wharton. Wharton has an MFA in photography and a PhD in American studies, both from the University of Texas at Austin. He is the author of three books of photographs, with a fourth due to be published in 2022. He has taught at the University of Mississippi's Center for the Study of Southern Culture since 1999.
SouthTalks is a series of events (including lectures, performances, film screenings, and panel discussions) that explores the interdisciplinary nature of Southern Studies. This series is free and open to the public, and typically takes place in the Tupelo Room of Barnard Observatory unless otherwise noted. However, as a result of the ongoing health crisis, many events will be virtual, free, and made accessible on the Center's YouTube channel after each live event. Visit the Center's website for up-to-date-information about all Center events. Registration will be required for all events in order to receive the event link.