The Mississippi Encyclopedia
-
-
The Mississippi Encyclopedia
The Mississippi Encyclopedia, a project that began at the Center for the Study of Southern Culture in 2003, was published in print in 2017 and made available online in 2018. The reference book was published by the University Press of Mississippi and later made available online, with support from the Mississippi Humanities Council, at www.mississippiencyclopedia.org.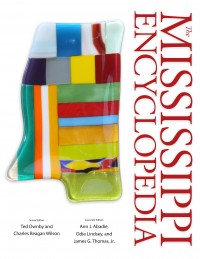 The Mississippi Encyclopedia includes solid, clear information contained in a single volume/website, offering with clarity and scholarship a breadth of topics unavailable anywhere else, with entries on every county, every governor, and numerous musicians, writers, artists, and activists. It is the first encyclopedic treatment of the state since 1907.
The Mississippi Encyclopedia appeals to anyone who wants to know more about the state. It has proven to be especially helpful to students, teachers, and scholars researching, writing about, or otherwise discovering the state, past and present.
The book won a Mississippi Institute of Arts and Letters Award, and awards of merit from the Mississippi Historical Society and the Mississippi Heritage Trust.
The Mississippi Encyclopedia is the successful result of numerous collaborations—between the University Press of Mississippi, the Mississippi Humanities Council, and the Center for the Southern Culture, among the numerous supporters who contributed to or helped organize the project, among the thirty topic editors from around the state and far beyond it, and among the authors, an intriguing mixture of scholars. The Mississippi Department of Archives and History helped a great deal, and the University of Mississippi Department of History and School of Law joined the Southern Studies program in encouraging advanced students to write for the project. Early support came from the University of Mississippi and the National Endowment for the Humanities.
Each entry in The Mississippi Encyclopedia provides an authoritative but accessible introduction to the topic discussed. It also features long essays on agriculture, archaeology, architecture, the civil rights movement, the Civil War, contemporary issues, drama, education, the environment, ethnicity, fiction, folklife, foodways, gender, geography, industry and industrial workers, law, science and medicine, music, myths and representations, American Indians, nonfiction, poetry, politics and government, the press, religion, social and economic history, sports, and visual art.
The online version is updated regularly, and several entries are added each year.