Apr
12
Mon
M.F.A. Artist Talk with Andrea Morales

@ Online
Apr 12 @ 6:00 pm – 7:00 pm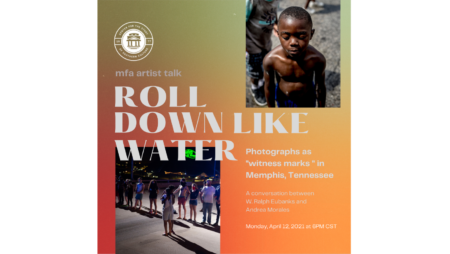 Join M.F.A. candidate Andrea Morales in discussion with Ralph Eubanks as she discusses her thesis project "Roll Down Like Water."
Andrea Morales is a documentary photographer and journalist born in Lima, Peru and raised in Miami, Florida. Her personal work attempts to lens the issues of displacement, disruption, and everyday magic. Adding glimpses of daily life to the record is central to how she makes work. While earning a B.S. in journalism at the University of Florida and an M.A. in visual communication at Ohio University, she worked as a photojournalist in newsrooms including the New York Times and The Concord Monitor. She is currently a producer at the Southern Documentary Project, an institute of the Center for the Study of Southern Culture at the University of Mississippi and the visual director for the MLK50: Justice Through Journalism.
W. Ralph Eubanks is a visiting professor of Southern Studies, English, and the Sally McDonnell Barksdale Honors College. Eubanks is author of "The House at the End of the Road: The Story of Three Generations of an Interracial Family in the American South" and "Ever Is a Long Time: A Journey into Mississippi's Dark Past," which Washington Post book critic Jonathan Yardley named as one of the best nonfiction books of the year. Eubanks's most recent book "A Place Like Mississippi" was published in March 2021.
Dec
3
Fri
In Person Open House

@ Barnard Observatory
Dec 3 @ 1:00 pm – 2:00 pm
We will host an informational session at 1 p.m. Friday, Dec. 3 in Room 105 of Barnard Observatory. Prospective students will learn about each program, meet faculty, staff, and current students, and have an opportunity to ask questions. Interested individuals should register here. Early application deadline for funding consideration for Fall 2022 admission is Feb. 1, 2022. For any questions, email graduate program director Dr. Catarina Passidomo.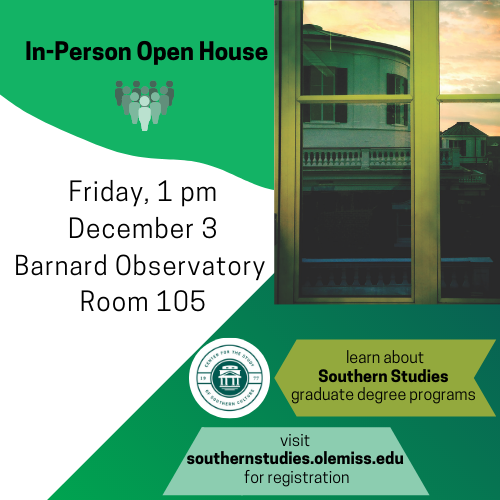 Apr
1
Fri
Artist Talk: Annemarie Anderson

@ Barnard Observatory
Apr 1 @ 4:00 pm – 5:00 pm
Photography Installation Open House
Annemarie Anderson
THIS GARDEN: Oysters and Place In Spring Creek, Florida is an open-house documentary exhibit that showcases oyster farmers in Spring Creek, Florida. Still photographs and audio recordings in this project reveal men and women at work within the bounds of nature. In these images, the Gulf of Mexico is a garden. Humans deeply impact, shape, and manage the animals and plants that live and grow along its inshore environs. Annemarie Anderson is an MFA candidate in Documentary Expression and oral historian for the Southern Foodways Alliance.