Major requirements adjusted and 100-level courses restructured in overhaul
Written by By Rebecca Lauck Cleary
OXFORD, Miss. – For ordinary University of Mississippi students considering a major that will make them extraordinary, Southern studies could be the one to help them stand out.
Southern studies seeks to investigate, interpret, and document the American South in all of its complexity by examining topics such as the historical meaning of being a Southerner and the role of the South in a global world. This unique program provides training in research, interpretation and communication skills that can be applied to a wide array of future occupations.
Mattie Ford, a sophomore Southern studies and journalism double major, chose the University of Mississippi specifically because of the Southern studies program.
"People connect with the idea of the South as an important place," said Ford, of Brownsville, Tennessee. "To be able to spend your time studying it and being a part of making it better, helping it form a new identity – an identity that we can be proud of – that's an experience that other majors or other routes don't quite afford you."
And after an extensive evaluation and adjustment of the Southern studies curriculum, a degree in the field may make even more sense for students looking for a major. A committee of Southern studies faculty realized the requirements for the major needed to be more closely aligned with others in the College of Liberal Arts.
"One outcome of our program assessment, which included both internal and external evaluations, was a consensus that the undergraduate curriculum could use some more thorough examination," said Catarina Passidomo, Southern Foodways Alliance assistant professor of Southern Studies and assistant professor of Anthropology. "We're offering some of these new courses this year, and will offer more in the future.
"I'm hopeful that the new courses can draw more and diverse students to the center, and that some of these students will major or minor in Southern studies."
The change revamped degree requirements for undergraduates, lowering the number of hours required for the major and expanding course offerings.
The Bachelor of Arts now consists of 30 hours of courses, including SST 101, 401, 402, two courses from SST 103-110, and one SST course at the 500 level. Additionally, students must also take 12 hours of electives from two additional departments, including African American studies, art, English, gender studies, history, journalism, music, sociology, anthropology and political science.
The minor consists of 18 hours, including SST 101, 401, 402, one course from SST 103-110 and two more courses from outside departments.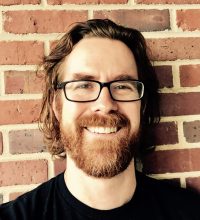 Also new this fall, Darren Grem, associate professor of Southern studies and history, takes over as the undergraduate student adviser. Grem will help students navigate their schedules and become aware of the possibilities the major can provide.
"We want students to gain an awareness of the program and create a sensible 100-level experience," Grem said. "This is a major that sends you around campus, so you aren't just in one or two buildings; you are learning to be a jack-of-all-trades learning from professors in multiple departments and fields."
The 100-level courses are revamped to make 101 a comprehensive survey of the history and culture of the South over time, eliminate the 102 course, and create a series of topical courses for 103-110 that are taught in smaller classroom settings about clearly specified topics.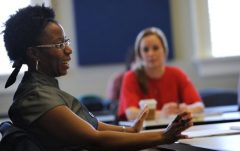 For fall 2019, Jodi Skipper, associate professor of Southern studies and anthropology, is teaching a South and Race course; Passidomo is teaching a South and Food course, and Grem is leading the 101 survey.
Other future 100 level courses could include Music and Southern Society, Gender and Sexuality in the South, and Rights and Southern Activism.
"I'm hoping that the student body as a whole gets a broader sense of what Southern studies is, and how compatible it is with so many different other majors," said Katie McKee, director of the Center for the Study of Southern Culture. "I hope students will have more opportunities to write about and discuss their experiences, and hope the faculty will feel energized by the chance to teach more frequently in their specialties."
Another change clearly delineated the sequence of SST 401 and 402, so that 401 became a methodology class and 402 a seminar-style class that would be a person's concluding experience as a major.
As ideas about the South have changed over time, the goal is to complicate definitions and understandings of the region, so the new curriculum better reflects those ideas.
For more information about the Southern studies program and the new major requirements, visit https://southernstudies.olemiss.edu/academics/.