The month of October includes a wide variety of SouthTalks, including a special Gilder-Jordan Lecture "One Person, No Vote: How Voter Suppression is Destroying Our Democracy" presented by Carol Anderson at 6 p.m. Oct. 13, and a Voting Rights and Community Activism series lecture "The Half-Life of Freedom, Race and Justice in America Today" at 5 p.m. Oct. 19 with Jelani Cobb. All events remain virtual, and a Zoom link will be provided to registrants at https://bit.ly/2Evgyhy or by emailing Afton Thomas.
Art and Community Activism: Discussing Jackson's Public Arts Programs with Artist Adrienne Domnick
Wednesday, Oct. 7 at noon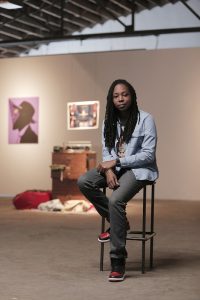 Southern Studies M.A. graduate Amanda Malloy and Jackson based artist and curator Adrienne Domnick will discuss Jackson, Mississippi's public arts programs as a directive for community activism. Adrienne will discuss how her own work serves to inspire and uplift the Jackson community, as well as her large-scale public pieces she has created  in coordination with the Fertile Ground Project, which seeks to bring awareness to food insecurity in Jackson.
Adrienne Domnick, a visual artist from Mississippi whose work is an exploration of sound, light, and bold colors through paint on a variety of surfaces. Her approach—redefining blank spaces by manipulating color and light to emphasize a particular expression, image, or emotion. She aims to rediscover black culture through the lens of contemporary art.
Amanda Malloy received her M.A. from the University of Mississippi in Southern Studies, focusing on southern photography. During this time she completed an assistantship with The University of Mississippi Museum. She is currently the Visual Arts Editor of Mississippi Folklife.
Carol Anderson to Present Gilder-Jordan Lecture
Wednesday, Oct. 13 at 6 p.m.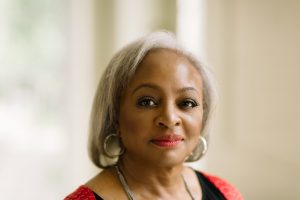 Carol Anderson, the Charles Howard Candler Professor and Chair of African American Studies at Emory University, will deliver the 2020 Gilder-Jordan Lecture ""One Person, No Vote: How Voter Suppression is Destroying Our Democracy." She is the author of "Eyes off the Prize: The United Nations and the African American Struggle for Human Rights, 1944–1955", "Bourgeois Radicals: The NAACP and the Struggle for Colonial Liberation, 1941–1960," and "White Rage: The Unspoken Truth of our Racial Divide." Her most recent book, "One Person, No Vote: How Voter Suppression Is Destroying Our Democracy," will be the subject of her lecture.
In addition to numerous teaching awards, Anderson's research has garnered fellowships from the American Council of Learned Societies, the Ford Foundation, National Humanities Center, Harvard University's Charles Warren Center, and the John Simon Guggenheim Foundation. She is a regular contributor to the Guardian and advisor for its yearlong series on voting rights.
Anderson was a member of the U.S. State Department's Historical Advisory Committee. She earned her doctorate in history from The Ohio State University.
Organized through the Center for the Study of Southern Culture, the African American Studies Program, Center for Civil War Research, and the Arch Dalrymple III Department of History, the Gilder-Jordan Speaker Series is made possible through the generosity of the Gilder Foundation, Inc. The series honors Richard Gilder of New York and his family, as well as Dan and Lou Jordan of Virginia.
"Voter Suppression and U.S. Elections" Roundtable Discussion
Jim Downs, Carol Anderson, and Kevin M. Kruse
Wednesday, October 14 at 6 p.m.
Voting Rights and Community Activism series lecture
In this election year, the Center for the Study of Southern Culture has partnered with the University of Georgia Press to host a roundtable discussion with coeditor of the UGA Press History in the Headlines series and editor of the recently published "Voter Suppression in U.S. Elections," Jim Downs. Carol Anderson and Kevin M. Kruse join Downs in this conversation.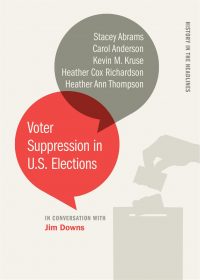 Historians have long been engaged in telling the story of the struggle for the vote. In the wake of recent contested elections, the suppression of the vote has returned to the headlines, as awareness of the deep structural barriers to the ballot, particularly for poor, black, and Latino voters, has called attention to the historical roots of issues related to voting access. Perhaps most notably, former state legislator Stacey Abrams's campaign for Georgia's gubernatorial race drew national attention after she narrowly lost to then-secretary of state Brian Kemp, who had removed hundreds of thousands of voters from the official rolls. After her loss, Abrams created Fair Fight, a multimillion-dollar initiative to combat voter suppression in twenty states. At an annual conference of the Organization of American Historians, Carol Anderson, Kevin M. Kruse, Heather Cox Richardson, and Heather Anne Thompson had a conversation with Stacey Abrams about the long history of voter suppression at the Library Company of Philadelphia. "Voter Suppression in U.S. Elections" is a transcript of that extraordinary conversation, edited by Jim Downs.
Jim Downs is the Gilder Lehrman NEH Professor of History and Civil War Studies at Gettysburg College. He is the author or editor of six other books, including "Sick from Freedom: African American Illness and Suffering during the Civil War and Reconstruction."
Kevin M. Kruse studies the political, social, and urban/suburban history of twentieth-century America. Focused on conflicts over race, rights, and religion, he has particular interests in segregation and the civil rights movement, the rise of religious nationalism and the making of modern conservatism. He is the author of White Flight: Atlanta and the Making of Modern Conservatism, One Nation under God: How Corporate America Invented Christian America, and, with Julian Zelizer, Fault Lines: A History of the United States since 1974.
"The Half-Life of Freedom, Race and Justice in America Today"
Voting Rights and Community Activism series lecture
Monday, Oct.  19 at 5 p.m.
Jelani Cobb
Journalist, educator, and diversity speaker W. Jelani Cobb writes about the enormous complexity of race in America. As recipient of the Sidney Hillman Prize for Opinion and Analysis Journalism for his New Yorker columns, Cobb was praised for combining "the strengths of an on-the-scene reporter, a public intellectual, a teacher, a vivid writer, a subtle moralist, and an accomplished professional historian"—qualities he brings to his gripping talks. In this event, Cobb will deliver the talk, "The Half-Life of Freedom, Race and Justice in America Today."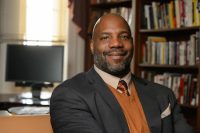 Jelani Cobb joined Columbia University's Journalism School faculty in 2016. He has contributed to the New Yorkersince 2012 and became a staff writer in 2015. Prior to joining the faculty at Columbia University, Cobb was an associate professor of history and director of the Africana Studies Institute at the University of Connecticut where he specialized in post–Civil War African American history, twentieth-century American politics, and the history of the Cold War. Cobb is also a recipient of fellowships from the Fulbright and Ford Foundations.
This event is part of the Center's Future of the South Initiative and cosponsored by the Division for Diversity and Community Engagement, UM Departments of English, History Political Science, Sociology and Anthropology, and the Sherman L. Muths, Jr., Lecture Series in Law Endowment.
"You Asked for the Facts"
Mary Blessey
Wednesday, Oct. 28 at noon 
Mississippi filmmaker Mary Blessey and Southern Studies master's graduate releases her documentary film "You Asked For The Facts: Bobby Kennedy at the University of Mississippi this month. "This film tells a lesser known slice of Mississippi history that has only become increasingly timely since we started working on the project," says Blessey, who produced and directed the feature length documentary.
Four years after the historic enrollment of James Meredith, a group of undergrad and law students devised a plan to get around Mississippi's unconstitutional "Speaker Ban" and bring Robert F. Kennedy to the University of Mississippi in 1966 to reveal publicly the truth about secret phone calls between the Kennedy administration and former Mississippi governor and staunch segregationist, Ross Barnett.
"You Asked For The Facts" features exclusive interviews with Mrs. Ethel Kennedy, widow of Robert F. Kennedy, James Meredith, Governor William Winter, Judge Reuben Anderson, Gerald Blessey, journalists Curtis Wilkie and Ellen Meacham, and many others, all discussing this significant chapter in Mississippi and American history.
This is a partnership with the Oxford Film Festival and will be available to screen beforehand, with a live Q&A between Blessey and Ralph Eubanks.
 "Whose Blues? Black Bluesism, Blues Universalism, and the Postmodern Paradoxes of America's Global Music"
Adam Gussow, Ken "Sugar Brown" Kawashima, and B. Brian Foster
Thursday, Oct. 29 at 3 p.m.
In this live Q&A, Adam Gussow and Ken "Sugar Brown" Kawashima, a Korean-Japanese American bluesman highlighted in Gussow's book "Whose Blues? Facing Up to Race and the Future of the Music," will be joined by Brian Foster, assistant professor of sociology and Southern Studies, for a conversation on Gussow's book. A prerecorded talk between Gussow, Kawashima, and Foster will be available on the Center's website by mid-October, and Foster will begin the live Q&A with prepared questions, then open it up to viewers.
Gussow's book "Whose Blues? Facing Up to Race and the Future of the Music" challenges us to think freshly about the blues in a postmodern moment, more than a century removed from the music's rural southern origins. If "blues is Black music," as some contemporary claimants insist, what should we make of the International Blues Challenge held annually in Memphis, with its all-comers mix of nationalities and ethnicities? If there's "no Black, no white, just the blues," as another familiar meme would have us believe, why do some Black blues people hear that proclamation not as a call to transracial fellowship, but as an aggressive attempt at cultural appropriation and the erasure of traumatic racial histories sounded by the music?
Adam Gussow is a professor of English and Southern Studies at the University of Mississippi and a professional blues harmonica player. He is the author of five books on the blues, including "Mister Satan's Apprentice" and "Beyond the Crossroads: The Devil and the Blues Tradition." "Satan and Adam," a documentary about his decades-long partnership with guitarist Sterling "Mr. Satan" Magee, is currently screening on Netflix.
Ken Kawashima is a professor of modern Japanese history and Marxist theory in the Department of East Asian Studies at the University of Toronto. He is author of "The Proletarian Gamble: Korean Workers in Interwar Japan," co-editor of "Tosaka Jun: A Critical Reader," and the English translator of Uno Kozo's "Theory of Crisis." He is also a blues musician, singer, and composer known as Sugar Brown. He has released three albums of original blues music: "Sugar Brown's Sad Day," "Poor Lazarus," and "It's a Blues World . . . Calling All Blues."
Brian Foster is an assistant professor of sociology and Southern Studies at the University of Mississippi. His work has appeared in the Washington Post, the Bitter Southerner, and Oxford Magazine. His first book, "I Don't Like the Blues: Race, Place, and the Backbeat of Black Life," which focuses on race and community life in the Mississippi Delta, will be out December 2020.
See the Center's events calendar for November events, including David Wharton and Ralph Eubanks  "Looking at Southern Landscapes: Inspiration, Influence and Impact," on Nov. 11 and Jacqueline Olive "Always in Season" Nov. 12.