Bring your lawn chairs and picnics every Sunday in June
Live music is back! After more than a year of canceled events, bands will return to the Grove stage for the annual Summer Sunset Series on Sunday afternoons throughout June.
The series, which is free and open to the public at the University of Mississippi, is a communitywide event made possible through a collaboration with Visit Oxford, the Yoknapatawpha Arts Council, Center for the Study of Southern Culture, University of Mississippi Museum, Gertrude C.  Ford Center for Performing Arts, Oxford-Lafayette County Chamber of Commerce, and the Mississippi Arts Commission. All concerts are at 6 p.m.
The Oxford-based Soul Tones kick things off Sunday (June 6). They offer renditions of classic and contemporary tunes, from New Orleans jazz to Memphis soul to Nashville country, and their concert is sponsored by the Yoknapatawpha Arts Council.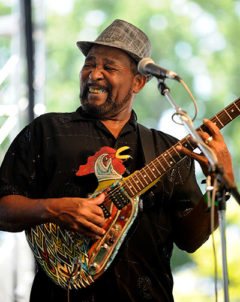 On June 13, the series will feature James "Super Chikan" Johnson, sponsored by the Center for the Study of Southern Culture. "Super Chikan," a blues musician based in Clarksdale, released his debut album, "Blues Come Home to Roost," which was influenced by musicians such as Muddy Waters, John Lee Hooker and Chuck Berry, in 1997.
He went on to release "What You See" (2000), "Shoot That Thang" (2001), "Chikan Soup" (2005) and "Sum Mo Chikan" (2007). He plays regularly at Ground Zero blues club in Clarksdale.
"We are excited because after a long year, we get to enjoy music together in the front yard of Barnard Observatory – the Grove stage," said Afton Thomas, center associate director for programs. "It's extra special because as the shutdown occurred, we had extended an invitation to Super Chikan to celebrate the 50th anniversary of Living Blues magazine, since he's been featured on their pages several times."
A true Delta original, Super Chikan has been delighting audiences for decades, said Living Blues publications manager Melanie Young.
"As live music begins again, we're happy to host his performance here on the University of Mississippi campus," Young said.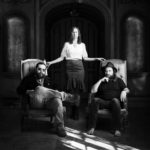 Blackwater Trio takes the stage June 20, sponsored by the museum. Blackwater Trio is a three-piece band that delivers American, folk and rock music, featuring members Seth Stroud on guitar and lead vocals; Walt Busby, lead guitar, vocals; and Alice Hasen, violin, vocals.
Robert Saarnio, director of the University Museum and Historic Houses, said he is excited to be able to sponsor the Blackwater Trio for the series.
"This is the fourth occasion on which we've presented this group, and based in prior audience response, attendees are in for an amazing treat as Alice Hasen leads the trio with her electric violin virtuosity," Saarnio said. "As a founding co-sponsor of the original summer concert series, the University Museum is very proud to extend our involvement with the series, always such a hallmark of Oxford summers."
The final performance, June 27, will be a live "Thacker Mountain Radio Hour," sponsored by the Ford Center and the Mississippi Arts Commission. "Thacker Mountain Radio" features author readings and a wide array of musical performances. It is normally recorded live at Off Square Books, but the show goes on the road in the summer to places such as Ocean Springs and the Neshoba County Fair.
Written By Rebecca Lauck Cleary