This weekend, Southern Studies grad student Amanda Malloy competed in the 3MT competition at the Council for Southern Graduate Schools annual conference. The following article, discussing her win in the UM competition, was in the Winter 2016 Southern Register. Read the full issue here.
Southern Studies Grad Student Wins UM Three Minute Thesis Competition
By being able to succinctly develop her communication and presentation skills, Amanda Malloy, a second-year Southern Studies MA student, won the University of Mississippi's Three Minute Thesis (3MT) competition. She will go on to the regional competition in Charlotte, North Carolina, in February as part of the Conference for Southern Graduate Schools.
The 3MT is a research communication competition developed by the University of Queensland, where graduate students have three minutes to present a compelling oration on their thesis and its significance. The event, sponsored by the UM Graduate School, challenges students to consolidate their ideas and research discoveries so they can be presented concisely to a nonspecialist audience.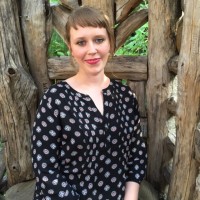 In preparation, Malloy composed a general overview of her thesis on Memphis photographer William Eggleston and his photographic representations of the southern landscape, all while keeping in mind her audience. "I didn't want to include too much art history or Southern Studies jargon, so I tried using a little bit of background history and a little bit of my thesis argument," she said. "Then I tried to tie it all together by finding something within my subject that I felt anyone could connect to, rather than going into depth about more complicated arguments."
Malloy also said the competition is a good one for Southern Studies graduate students to participate in. "In may just seem like more work, but writing and memorizing a three-minute speech is certainly worth what you get out of the experience. It's a great way to learn how to explain your subject concisely and clearly, and it helps build confidence in what you study. Plus, it's just really fun to see what other people work on and to talk to graduate students in totally different fields."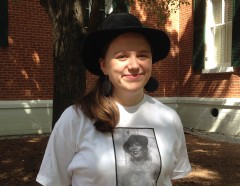 Second-year student Katie Gill also participated in the competition and made it to the final round, presenting on her thesis topic of Southern characters in comic books. For Gill, it was helpful to be able to talk about her thesis in a condensed format.
"The thing about master's theses is that it's really easy to get bogged down in technical minutia while explaining it because you've been dealing with this thing for months so you know it backwards and forwards," Gill said. "3MT helps you kick the technical bits and bobs to the side to just find the bare bones of your thesis that you can explain it in a way that makes sense."
Gill encourages other students to participate next year. "Don't worry if you think you're going to do terribly, because inevitably someone's going to choke or one of the science students will put way too much technical jargon in their presentation," she said.
Graduate School Dean John Kiss said the 3MT program provides great opportunities for graduate students to develop communication skills important for their future careers.
"Students learn how to distill complex ideas to effectively communicate to the general public," Kiss said. "Amanda did an outstanding job on 3MT and we our proud to have her represent UM at a national competition."