Multiculturalism and social justice topic of first lecture Sept. 4
Written By Rebecca Lauck Cleary
The SouthTalks series, sponsored by the Center for the Study of Southern Culture at the University of Mississippi, kicks off Sept. 4 with a fall lineup that showcases the work of professors, alumni and documentarians in various fields.
SouthTalks explore the interdisciplinary nature of Southern studies and includes lectures, performances, film screenings and panel discussions. All events take place in the Tupelo Room of Barnard Observatory unless otherwise noted, and are free and open to the public.
Afton Thomas, associate director for programs, is excited about the fall programming because it offers something for everyone.
"This semester, our event series has a new look and a new name," Thomas said. "Formerly known as the center's Brown Bag Lecture Series, our fall SouthTalks lineup includes interdisciplinary research and documentary methods discussed across all three center institutes: Living Blues magazine, SouthDocs and the Southern Foodways Alliance."
Catarina Passidomo, assistant professor of anthropology and Southern studies, begins the series at noon Sept. 4 with a lecture about "Gastrodiplomacy in Two Souths: Cuisine as Nation-Brand in Peru and the U.S. South."
In this talk, Passidomo will share some stories from her recent Fulbright research and teaching fellowship in Peru. Her research compares Peruvian and U.S. Southern contemporary food renaissances and their discursive commitments to multiculturalism, social justice and environmental sustainability.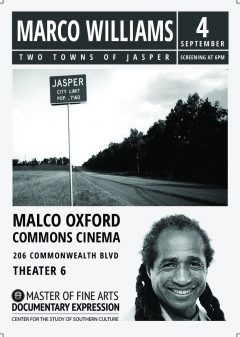 At 6 p.m. that same day, visiting documentarian Marco Williams will screen his film "Two Towns of Jasper" at the Malco Oxford Commons Cinema, at 206 Commonwealth Blvd.
The film shows an explicit and troubling portrait of race in America, as two film crews, one black and one white, set out to document the aftermath of the murder of James Byrd Jr., a black man chained to a pickup truck and dragged to death by three white men, and their subsequent trial. Williams is an award-winning documentary filmmaker and professor at Northwestern School of Communication.
At noon Sept. 11, Carrie Barske Crawford, director of the Muscle Shoals National Heritage Area, and Brian Dempsey, assistant professor of history at University of North Alabama, discuss the photo-historical project "Hidden Spaces."
The project identifies, displays and interprets cultural landscapes, built environments and natural features that highlight the inherent uniqueness and diversity of the greater Shoals region. "Hidden Spaces" uses oral histories, photography, archival documentation and mapping to tell the story of important places not often associated with the weight of a site's history.
At 4 p.m. Sept. 12, Edmund T. Gordon, vice provost for diversity and the founding chairman emeritus of the African and African diaspora studies department at the University of Texas, and Celeste Henery, a cultural anthropologist working at the intersections of race, gender and health, discuss "Exploring the Racial Geography of UT-Austin."
During the past 20 years, Gordon has researched and led a tour of the racial and gendered geography of the Austin campus. This talk will discuss the origins of the tour and its recent digitization. It also will address the university's shifting representations in light of past and more recent changes in its commemorative landscape.
Jimmy Thomas, center associate director for publications, will moderate the talk "Square Books at Forty: A Conversation" with Richard Howorth, Lisa Howorth and Lyn Roberts, set for noon Sept. 18.
Dating back to the 1970s, Square Books and the Center for the Study of Southern Culture have enjoyed a close relationship, with the bookstore bringing writers from all regions to Oxford, including a number of authors whose works are taught across the Southern studies curriculum. The 40th anniversary of Square Books provides an opportunity to reflect on the store's contributions to both the Oxford community and to the university.
Adam Gussow, UM professor of English and Southern studies and a blues harmonica player and teacher, presents "'Satan & Adam': A Conversation and Film Screening" at 4 p.m. Sept. 26.
The film is a celebration of the transformative power of music and the triumph of two soul survivors, showcasing Gussow's experience as half of the duo Satan and Adam with Mississippi-born blues guitarist and singer Sterling Magee, known as "Mr. Satan."
Southern studies alumnus Turry M. Flucker presents "Art and Activism at Tougaloo College" at noon Oct. 2. He will highlight significant works by modern visual artists from the Tougaloo College Art Collections as the college celebrates the sesquicentennial year of its founding.
Flucker, a native of Houston, Texas, is the art collections administrator for the Tougaloo College Art Collections.
At 4 p.m. Oct. 8, Paolo Battiglia presents "Italian American Country," an illustrated book and a three-episode documentary chronicling the travels and encounters he had from Barre, Vermont, to Pittsburg, California, to Greenville – all places that, in many different ways, show the viewer what it means and what it meant to be Italian in America.
During this presentation, the author and two actors will re-enact stories from the book and share a few scenes from the documentary.
At noon Oct. 9, Kate Kenwright, Lolly Rash and Jodi Skipper present "Historic Preservation in Mississippi from an Advocacy and Local Government Perspective."
Skipper, associate professor of anthropology and Southern studies at Ole Miss, will moderate a discussion between Southern studies alumnus Kenwright, historic preservationist for the city of Oxford, and Rash, executive director of the Mississippi Heritage Trust, on what it takes to become an effective advocate for Mississippi's architectural legacy at a local and state level.
At noon Oct. 11, Brannon Costello, the James F. Cassidy Professor of English at Louisiana State University, will discuss "Superhero Comics and the U.S. South." Costello's talk will examine the history of the representation of the South in superhero comics well-known and obscure.
He also will present on Oct.12 during the Graphic Novels and Comics across the Humanities Conference, a free event hosted by the UM Department of Philosophy and Religion.
At 6 p.m. Oct. 22, visiting documentarian and filmmaker Sophia Nahli Allison will discuss "Radical Reimaginings in Documentary Filmmaking" at the Malco Oxford Commons Cinema. An experimental documentary filmmaker from south central Los Angeles, she will screen her short hybrid documentary, "A Love Song for Latasha," and a few shorter documentary works.
The evening's discussion will center on reimagining documentary and the archives, finding one's style and voice, and the utilization of experimental methods within film.
At 3 p.m. Nov. 1, visiting filmmaker Anne Lewis screens "A Strike and An Uprising (in Texas)," an experimental documentary film based on two events: the San Antonio pecan shellers' strike of 1938, which was led by Emma Tenayuca, and the Jobs with Justice march, led by Nacogdoches cafeteria workers, groundskeepers and housekeepers in 1987.
Lewis's other films include "On Our Own Land," "Fast Food Women," "Justice in the Coalfields" and "Morristown: In the Air and Sun," a film about factory job loss and the rights of immigrants. Lewis serves on the executive board of the Texas State Employees Union TSEU-CWA 6186 and teaches at the University of Texas.
At noon Nov. 6, Mikaëla M. Adams presents "'The Positive Duty to Aid Them': Segregated Health, Federal Responsibility and the Mississippi Choctaws during the 1918-1919 Influenza Pandemic." The pandemic reinforced the need for a federal presence in the segregated South and, in the years that followed, the Choctaws marshaled that federal-tribal relationship to rebuild their land base and restore their sovereignty.
Adams is an associate professor of Native American history at Ole Miss. Her first book, "Who Belongs? Race, Resources, and Tribal Citizenship in the Native South," explored themes of indigenous identity, citizenship and sovereignty in the Jim Crow South.
At noon Nov. 13, Josh Parshall, director of the history department at the Goldring/Woldenberg Institute of Southern Jewish Life in Jackson, will discuss "Jewish Radicals in New South Cities: The Southern District of the Workmen's Circle."
This presentation, cosponsored by the Jewish Federation of Oxford, will examine activities of the East European Jewish immigrants in relation to the New South settings in which they took place and explore the meanings and legacies of the Workmen's Circle in the South.
For more information on the SouthTalks Series or the Center for the Study of Southern Culture, visit southernstudies.olemiss.edu/events or contact Thomas at amthoma4@olemiss.edu or 662-915-3363.