Editor's Note: As a result of the disruption and cancellation of Center events caused by the COVID-19 pandemic this spring and summer, we have chosen to move the Southern Register to online publication for this Spring-Summer 2020 issue. We'll return to our usual print publication this upcoming fall, but until then we'll publish weekly stories that would usually appear in the print edition of the Southern Register. Check the Center website and social media each Monday for new "Southern Register Stories" and announcements of upcoming events.

Director's Column
Public writing in the age of a pandemic seems to call for pithy wisdom and broad hints at having become reacquainted with the more meaningful parts of life. Those sentiments are well and good if you can muster them, but the truth is that life under the coronavirus is also frustrating and tiresome and, as I write this column in mid-May, also deeply uncertain. Like all of you, we have felt a range of emotions at the Center for the Study of Southern Culture, having just last week sent our graduates out into the world without ceremony under the banners of "cancelled" and "rescheduled." As did the rest of academia, the University of Mississippi suspended in-person instruction in mid-March, completed the semester online, and now hesitates over fall plans, even as the summer heat moves into a mostly empty campus.
But at the Center we are planning for a vibrant future, with or without the virus, with or without a resumption of "normal life" any time soon. Out of this unusual time, we carry forward more than anxiety and frustration.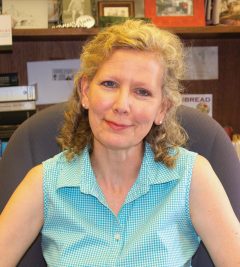 It is true that remote instruction was sometimes awkward and occasionally technologically mystifying, but it is also the case—counterintuitively—that many of us built more personal relationships with some of our students and discovered valuable uses for online platforms that will a play a role even in our physically reconstituted classrooms. Particularly in Southern Studies 101, when we shifted the readings to being about COVID-19 and its effects on the South, students perked up and joined in the conversation, discovering new ways to see the local and the global as inextricably linked.
It is true that Zoom faculty and staff meetings now resemble games of Hollywood Squares, but they also take us into each other's homes where we chat with small children (have your sunflowers come up yet, William?) and meet pets (Fern, my personal assistant). If you would like to see how some of us have been spending our time, check out this informal "what have you been reading and doing, SST?" video:
(Thank you, John Rash!) Zoom may also have sparked a new tradition, the "Zoom-union" of Center faculty, staff, and alumni that we held on graduation weekend, a wild but thoroughly enjoyable mash-up defying time and space. (Thanks, class of 2011, for the idea and for leading the way.)
It is true that much of our fall programming, including the SouthTalks lecture series, will go online in the fall in anticipation of a continued need for social distancing, but we are excited about the opportunity new venues will give us to connect with more of you who can seldom join us in person. In particular, we anticipate spotlighting our fall programming theme, "Voting Rights and Community Activism," and showcasing the scholarship of Center faculty, five of whom have new books just out or nearly completed. We hope, as well, to feature the documentary thesis projects of our three recent MFA graduates whose public showings of their work were circumvented by COVID.
It is true that events connected to our Future of the South Initiatives have been delayed, but those faculty, classroom, and community-centered projects will continue in a variety of forms because the topics they engage remain central to life in the contemporary South and will certainly help to shape the region as we move deeper into the twenty-first century. The first focuses on "Movement and Migration"; the second is our collaboration with the Invisible Histories Project-Mississippi and its emphasis on telling the stories of LGBTQ southerners; and the newest will be a multimedia study of climate change in the Deep South, called "Flood Gates." But the pandemic issues many imperatives, not the least of which is that we study the virus itself, and the economic, physical, and mental havoc it is unevenly wreaking. Look for programming in the future that will help us make to sense of the now.
And it is very much true that we miss campus, we miss each other, and we miss seeing many of you. But being away has really only reminded us of our attachment to Barnard Observatory as home base. We'll meet you back there soon.
Katie McKee
Center Director