Living Blues #281 features the Soul Queen of New Orleans, Irma Thomas. It has been 26 years since Thomas has graced the cover of Living Blues. We sat down with her earlier this year and talked about her career, Katrina, and life at age 81. Chicago drummer Merle Perkins has played behind everyone from Freddie King to Eddy Clearwater and put in decades fronting his own band, the Perkolators. His lyrical "talking drum" solos are legendary while his relaxed drumming style has won him fans worldwide. Twenty-four-year-old D.K. Harrell was turned on to the blues by his mother and grandparents but watching YouTube is how he learned to play the guitar. Enamored with B.B. King early on, Harrell does an amazingly good rendition of the legend. As his career grows, he in stepping out and finding his own voice.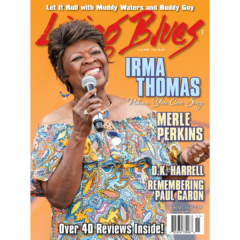 This issue's Let It Roll focusses on one of the great blues recordings of the post-1960s is Muddy Waters' Folk Singer on Chess Records. Featuring Waters, Buddy Guy, Willie Dixon, and Clifton James, the recording captures the intimacy of four masters doing what they do best.
All of this plus the latest in Blues News, our remembrance of LB cofounder Paul Garon, plus over 40 record reviews.
Digital and print subscriptions to Living Blues start at just $18.