Sessions are free, open to the public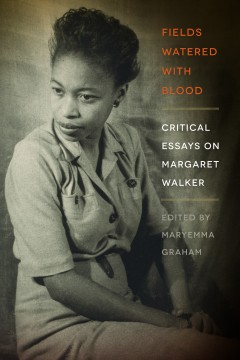 OXFORD, Miss. – A National Book Award winner, popular television show writers, and a centennial birthday commemoration are all planned for the 2015 Oxford Conference for the Book, set for March 25-27.
Presented by the University of Mississippi's Center for the Study of Southern Culture and Square Books, the 22nd annual conference is dedicated to Mississippi writer Margaret Walker, who penned the critically acclaimed novel "Jubilee" and the award-winning poetry collection "For My People." Walker would have celebrated her 100th birthday this year.
The program is free and open to the public. It includes readings, panel discussions and talks by more than 40 talented writers from across the nation, bringing together fiction and nonfiction writers, journalists, poets, publishers, teachers and students. Panels explore a range of topics, including sports and race, writing with pictures, writing for television, heritage foods and foodways of the South, 21st-century American wars, and the life of Elvis Presley.
"The Oxford Conference for the Book has always done a great job of serving both the academy and the community," said Jimmy Thomas, conference director and associate director for publications at the Center for the Study of Southern Culture. "This is a great opportunity for Oxford residents and those who travel to Oxford and the UM campus to attend smart, engaging sessions and to visit a number of places not usually explored by visitors or members of the community."
The Wednesday, March 25, welcome lunch, hosted by the University of Mississippi Library Archives and Special Collections, is set for noon on the third floor of the J.D. Williams Library. Distinguished professor and author of "Fields Watered with Blood: Critical Essays on Margaret Walker," Maryemma Graham, will give the keynote address at 1:30 p.m. at the Overby Center for Southern Journalism and Politics. Graham, and a panel of Walker scholars, including Robert Luckett, Carolyn J. Brown, and Jerry W. Ward, will follow.
"I was ecstatic that the Oxford Conference for the Book chose to honor our founder this year," said Robert Luckett, director of the Margaret Walker Center at Jackson State University. "Walker founded the Institute for the Study of the History, Life, and Culture of Black People when she was a faculty member at what was then Jackson State College in 1968. Today, named in her honor, the Margaret Walker Center tries to lift up her artistic and academic legacy on a daily basis, and the Oxford Conference for the Book is a perfect and prestigious forum to do so."
David Simon, creator of HBO's "The Wire" and "Treme" returns to Oxford, presented in partnership with the Sarah Isom Center for Women and Gender Studies, as part of the 15th Annual Isom Student Gender Conference. His talk is set for 1:15 p.m. March 27 in the Lafayette County Courthouse on the Oxford Square.
"Simon's diverse body of work connects so well to our conference's theme 'Space & Place.' We are proud to partner once again with the Conference for the Book for this important event," said Theresa Starkey, assistant director and instructor of gender studies.
The Children's Book Festival will be held at the Ford Center for Performing Arts, with more than 1,200 first graders and fifth graders from the public schools of Lafayette County and Oxford in attendance. Sheila Turnage, author of "Three Times Lucky," will present at 9 a.m. Monday, March 23, andAdam Rubin, author of "Those Darn Squirrels" will present at 9 a.m. Wednesday, March 25.
Beth Ann Fennelly, UM associate professor of English and director of the MFA program, will moderate a poetry panel, and author Jack Pendarvis will moderate a panel with fellow "Adventure Time" writers Kent Osborne, Seo Kim and Natasha Allegri.
Thacker Mountain Radio hosts a special Oxford Conference for the Book show at 6 p.m. March 26 at the Lyric Theatre, 106 Van Buren on the Oxford Square. Guests on the show will include authors Kent Russell, David Vann and Preston Lauterbach and self-taught artist-musician Lonnie Holley.
This year's schedule of readings, organized with the leadership of Square Books, includes established and up-and-coming writers on book tour, such as National Book Award–winner Phil Klay, Kent Russell and John Renehan.
To see a full schedule, visit the conference website at oxfordconferenceforthebook.com.