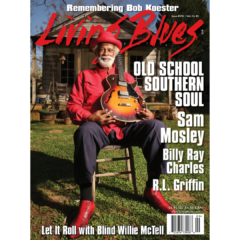 Living Blues #274 (September/October 2021) is an Old School Southern Soul special. Mississippi bluesman Sam Mosley has spent his life making music. Now 75, Mosley looks back on his long career, which includes multiple bands with his partner, Bob Johnson, and their decades of successful songwriting for Malaco Records. Billy Ray Charles has been singing the blues for over 50 years. Often flying under the radar, this songwriting powerhouse tells LB his life story. R.L. Griffin has been a central figure of the Dallas blues scene for over 60 years. Singer, songwriter, label owner, promoter, and owner of the famous Blues Palace, Griffin has done it all.
Bob Koester, owner of Delmark Records and the Jazz Record Mart in Chicago, was for more than 60 years a mentor and friend to many in the blues world, and he leaves a lasting legacy as one of the genre's most important figures. We take a look back at his career and influence on the music we love.
This issue's Let It Roll features Atlanta's Blind Willie McTell. By 1940, he was a blues star when John Lomax spent a day capturing a wide range of songs and spoken comments from him at the Robert Fulton Hotel.
All of this plus the latest in Blues News, over 50 record reviews, and the Living Blues Radio Charts.
Digital and print subscriptions to Living Blues start at just $18 and are available at www.livingblues.com.