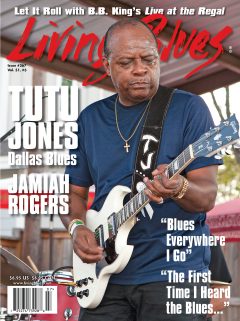 Living Blues #267 (July/August 2020) continues our 50th Anniversary Celebration. South Dallas bluesman Tutu Jones burst onto the scene as a hot, fresh young guitarist in the 1990s. Things didn't necessarily work out as planned over the next two decades, but Jones has never given up. A little older and a lot wiser, now he is ready to be heard. Chicago's Jamiah Rogers is just 25 but his presence in the local scene is exploding. One of the most popular young local blues artists today, Jamiah Rogers is the face of the future of Chicago blues. Blues Everywhere I Go from list master Jim DeKoster features a list of 50 songs that capture the blues in some of its many venues. The First Time I Heard the Blues features blues artists' stories of their first encounters with the blues gathered from LB's first 25 years of interviews. This issue's Let It Roll takes a look at B.B. King's legendary album Live at the Regal recorded in Chicago on November 20–21, 1964.
All of this plus Breaking Out with the M.S.G. Acoustic Blues Trio, LB Talks To with Steve Howell, the latest in Blues News, record reviews, book reviews, the 2020 Living Blues Awards Reader's Ballot, and the latest Living Blues Radio Charts.
Digital and print subscriptions to Living Blues start at just $18.