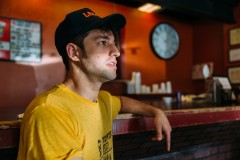 Music of the South concert series continues
Lee Bains III brings his distinct Southern rock and soul to the University of Mississippi for a solo performance Jan. 27 as part of the Center for the Study of Southern Culture's Music of the South concert series.
Bains, a songwriter from Birmingham, Alabama, who lives in Atlanta, recently released his second full-length album, "Dereconstructed," with his band The Glory Fires. The album finds Bains wrestling with questions of identity, culture and history through a highly personal, politicized, localized and Southern lens.
The concert is set for 7 p.m. in the Studio Theater of the Gertrude C. Ford Center for the Performing Arts. The venue has a capacity of 150 people. Tickets are available for $10 through the University of Mississippi Box Office, 662-915-7411, and at the door.
The Music of the South Concert Series, which highlights intimate evenings with Southern performers, is a partnership between the Center for the Study of Southern Culture (CSSC) and the Ford Center that began in 2012.
The singer and guitar player first found out about the CSSC while he was in school at New York University, studying Southern history and roots.
"Since adolescence, I'd certainly thought a lot about how I did and didn't jibe with what I knew as 'Southern,' but it wasn't until I was exposed to critical theory that I began to envision Southern identity as a thing to be interrogated and explored — and, ultimately, as a thing to dismantle into multitudinous identities," Bains said. "My senior year, as I was preparing to write a paper that brought the writings of several post-colonial theorists to bear on Louis Rubin's 'I'll Take My Stand: The South and the Agrarian Tradition,' I came across a slew of articles dealing with southernness from any number of angles that had come out of Ole Miss and the University of North Carolina, and — to be perfectly and nerdily honest — was giddy that such places existed."
Bains will also visit two Southern Studies classes to discuss his musical influences and how he sees music as a vehicle for both personal expression and social commentary, as well as what role he sees for music in Southern society today.
He said he always enjoys playing in Oxford, especially since The Glory Fires' first album, "There is a Bomb in Gilead," was recorded in nearby Water Valley.
"Plus, being there is something like transcending the line between art and reality. Walking through the Square, it's hard not to think about Jefferson, and the Yoknapatawpha County courthouse and Quentin Compson," Bains said. "William Faulkner shaped and has continued to challenge my own mission in writing, particularly in his devotion to writing about his particular place."
Previous Music of the South performers include Caroline Herring, Randall Bramblett, Valerie June, Blind Boy Paxton and John "JoJo" Hermann, the Water Liars, Amy Andrews, Tyler Keith and the band Feufollet.
Contact Becca Walton at rwalton@olemiss.edu with any questions.