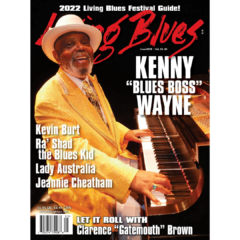 Living Blues #278 features bluesman Kenny "Blues Boss" Wayne on the cover. Wayne is one of the few remaining piano-playing frontmen in the blues. He talked with Living Blues earlier this year about his journey on the keyboard into, out of, and back to the blues. Iowa may not be known as a hotbed of the blues but Kevin Burt is certainly working to change that impression. After winning three of the top IBC awards in 2018 his career has exploded. Based in the small south Mississippi town of Laurel, Ra'Shad the Blues Kid rides the line between the old school blues sounds of his mentors LC Ulmer and T-Bone Pruitt and the modern southern soul sounds of artists like J-Wonn, Ms. Jody, and Mr. Sipp.
This issue's Let It Roll focusses on Clarence "Gatemouth" Brown, one of the great musicians in blues history. In 1947 he cut four blazing sides with the hard-rocking Maxwell Davis Orchestra in Hollywood for Aladdin Records.
All of this plus the latest in Blues News, Breaking Out with Australia Jones, Catching Up with Jeannie Cheatham, over 50 record reviews, and the 2022 Living Blues Festival Guide!
Digital and print subscriptions to Living Blues start at just $18.