Freedom, race and justice will be discussed  Oct 19
OXFORD, Miss. – Journalist and educator Jelani Cobb frequently writes about race, politics, history and culture, and will share his views on the enormous complexity of those topics in a virtual SouthTalks lecture "The Half-Life of Freedom, Race and Justice in America Today."
Set for 5 p.m. Oct. 19, the talk, which is part of a series from the Center for the Study of Southern Culture at the University of Mississippi, is free to the public. A Zoom link will be provided to registrants who sign up at https://bit.ly/2Evgyhy.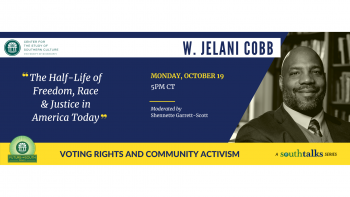 "This lecture is intended to inspire us to work tirelessly toward our dream of achieving equity and genuine democracy," Cobb said. "The levers of justice are not only in our hands, but we are able to move them in the direction we, as a society, see fit."
Cobb, who joined the Columbia University Journalism School faculty in 2016, has contributed to the New Yorker since 2012 and became a staff writer in 2015. As recipient of the Sidney Hillman Prize for Opinion and Analysis Journalism for his columns in The New Yorker, Cobb was praised for combining "the strengths of an on-the-scene reporter, a public intellectual, a teacher, a vivid writer, a subtle moralist and an accomplished professional historian," which are qualities he brings to his talks.
Early in the pandemic, Katie McKee, director of the Center for the Study of Southern Culture, read one of his columns in The New Yorker and daydreamed about extending Cobb an invitation to speak at UM.
"In that moment, I felt like he could give us answers to questions about race and health and the future that felt otherwise insurmountable," McKee said. "I could not possibly be happier that he accepted our invitation, but we won't insist that he solve all the problems. We're content just to know what's on his mind today."
Born and raised in Queens, New York, Cobb is a graduate of Howard University and Rutgers University, where he received his doctorate in American history. He is the author of "The Substance of Hope: Barack Obama and the Paradox of Progress" (Bloomsbury Publishing, 2010) as well as "To the Break of Dawn: A Freestyle on the Hip Hop Aesthetic" (NYU Press, 2008).
His articles and essays have appeared in the Washington Post, The New Republic, Essence, Vibe, The Progressive and TheRoot.com. His collection "The Devil and Dave Chappelle and Other Essays" was published in 2007 by Basic Books.
Cobb's discussion is important because it helps put the present moment in perspective and opens up an informed dialogue about possibilities to eradicate systemic and institutional racial inequities, said Shennette Garrett-Scott, UM associate professor of history and African American studies.
"I hope that students learn that it is within our power to dismantle racism and other forms of injustice and to shape a more hopeful future for us all, and I would encourage people to watch Dr. Cobb's investigative reporting in the PBS series 'Frontline' and his writings on diverse topics from reparations to the presidential elections in The New Yorker," she said.
Most recently, Cobb was an associate professor of history and director of the Africana Studies Institute at the University of Connecticut, where he specialized in post-Civil War African American history, 20th century American politics and the history of the Cold War. Cobb is also a recipient of fellowships from the Fulbright and Ford foundations.
Besides his SouthTalks lecture, Cobb will have a discussion with UM faculty and staff at 2 p.m. and one with UM students at 3:30 p.m. Registration for both is available by contacting Afton Thomas.
Brian Foster, assistant professor of sociology and Southern studies, echoed McKee's excitement about hearing from Cobb.
"I've found Jelani's voice and perspective to be an important one, both for my own professional trajectory – I read 'The Devil and Dave Chapelle' as an undergrad – and for broader conversations about race and politics in the contemporary U.S.," Foster said.
Students who want to understand our world will want to make time to hear from Cobb, said Debora Wenger, interim dean and professor of journalism.
"From Ferguson to Charleston, Barack Obama to John Lewis and politics to social justice, you'll find Dr. Cobb has chronicled some of the most important events, people and issues in our recent history," Wenger said. "We are delighted to have a journalist and educator of his stature speaking to our community."
This event is sponsored by the Center for the Study of Southern Culture as part of the Future of the South Initiative and the Voting and Community Activism events this fall. Other sponsors include the Division for Diversity and Community Engagement; the College of Liberal Arts and its departments of English, history, political science and sociology and anthropology; the Sally McDonnell Barksdale Honors College, the School of Journalism and New Media and the School of Law.
SouthTalks is a series of events – including lectures, performances, film screenings and panel discussions – that explores the interdisciplinary nature of Southern studies. As a result of the ongoing health crisis, all events will be virtual, free and accessible on the center's YouTube channel.
Visit the center's website for information about all center events. Registration is required for all events.
Written by Rebecca Lauck Cleary