Second M.A. student defends her thesis remotely
Written By Rebecca Lauck Cleary
Southern Studies master's student Hilary Word has been considering the supernatural and futuristic worlds through the lens of literature for years.
Word's thesis "Post-Soul Speculation: An Exploration of Afro-Southern Speculative Fiction," looks at the genre of fiction that encompasses works where the setting involves supernatural, futuristic, or other imagined elements.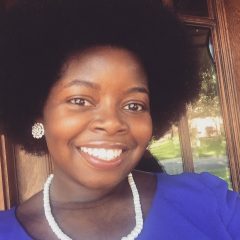 "My thesis is an examination of post-soul, African-American Southern speculative fiction because I'm really interested in how this particular type of fiction showcases the U.S. South's capacity for progressive, liberatory change," said Word, the 2019-2020 Graduate Writing Fellow. "I'm also interested in how this type of literature centers post-Civil Rights movement Black Southerners and their realities."
Originally from Jackson, Mississippi, Word earned her undergraduate degree in history from Tougaloo College. As a life-long fan of speculative fiction, mythology, and folklore, Word has always been fascinated with the concept of the real versus "unreal" and the supernatural.
"I like consuming content that focuses on contemporary South communities, especially contemporary Black Southern communities, because I think we have so much going on down here that deserves exploration," Word said. "Combining my interests in speculative fiction and the Black South eventually seemed like a natural fit for a thesis topic."
A large part of her research process was devoted to selecting the novels she would examine, so she spent much of her time reading different speculative fiction novels, combing through book reviews, and reviewing scholarship on Black speculative fiction, along with reading non-fiction articles, essays, and interviews featuring the authors whose works she selected to be profiled within the thesis.
"I use the term 'speculative fiction' as an umbrella category for fiction that has elements significant to the story that push the boundaries of 'real' and 'unreal,' Word said. "Speculative fiction includes genres like fantasy, sci-fi, time travel, paranormal, urban fantasy, horror, dystopian, magical realism, Southern Gothic, superhero, and more. The novels I selected to examine for my thesis are Tananarive Due's 'My Soul to Keep,' Phyllis Alesia Perry's 'Stigmata,' and Jesmyn Ward's 'Sing, Unburied, Sing.'"
Her thesis evolved organically, and she says one of the most important decisions she made was to focus on the post-soul time frame, a term first coined by Nelson George in a 1992 Village Voice article.
"I think that the 'post-soul' dimension is really powerful in its illumination of how Afro-Southern speculative fiction embodies and champions progressive ethics in the South as well as how Afro-Southern speculative fiction complicates ideas about contemporary Black Southern life," Word said.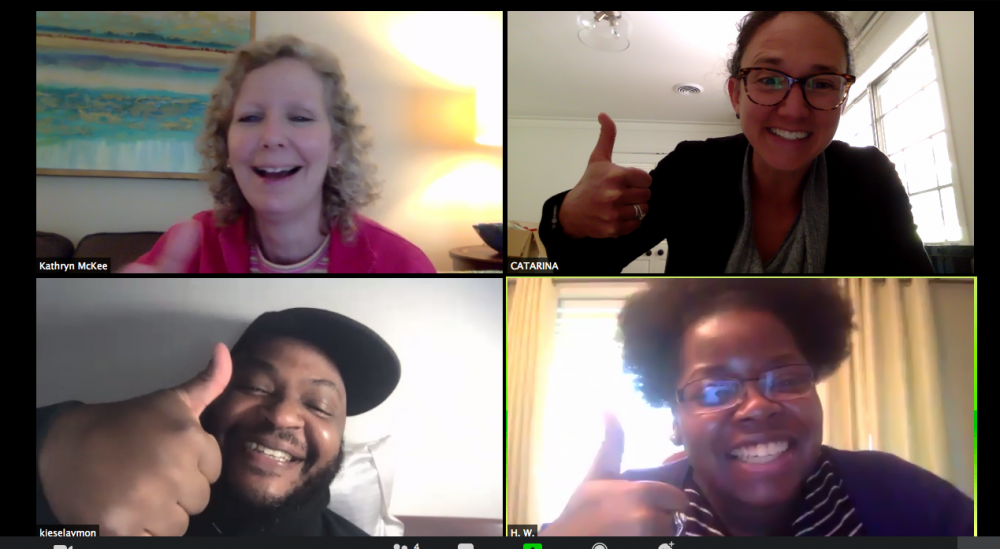 Encouraging Word on her journey through this dimension were her thesis committee Catarina Passidomo, Southern Foodways Alliance Assistant Professor of Southern Studies and assistant professor of anthropology; and her co-chairs Kiese Laymon, Ottilie Schillig Professor in English and Creative Writing; and Katie McKee, McMullan Professor of Southern Studies and professor of English, and Director of Center for the Study of Southern Culture.
"It has been a real pleasure to watch Hilary's thesis take shape over time," McKee said. "She was pretty speculative about it herself in the beginning! But she now has a whole body of work—her thesis is more than 125 pages—to be proud of. Hilary is a perfectionist, and she had high standards for this project. She did not disappoint herself, and she certainly impressed us."
Word is the second Southern Studies graduate student to defend her thesis remotely due to the COVID-19 pandemic. She says she found herself getting overwhelmed by the constant updates about the virus and how it was affecting people, both those she knew as well as complete strangers.
"I was not able to pump out my self-set productivity requirements in the same way, and I had to forgive myself for that," Word said. "However, my committee members, especially Dr. McKee, have been very helpful, and I feel optimistic about my defense. I actually think a Zoom defense will be less intimidating than an in-person one, so I think I'll be comfortable with this remote setting."
She says the Center for the Study of Southern Culture offers wonderful graduate programs, especially for anyone interested in interdisciplinary scholarship.
"All of the Center's affiliated faculty and staff have been helpful and friendly, and it feels like the people who work at the center or in connection with the center are truly invested in the success of the graduate students," Word said. "I've been introduced to so many incredible scholars via my Southern Studies courses, and I have learned so much about myself, the South, and the world. I really love the interdisciplinary nature of the program, and the events that the Center holds."