Graduates, their families and guests are invited to participate in a live, virtual ceremony on Saturday, May 9.
Written By Rebecca Lauck Cleary
OXFORD, Miss. – Claire Francis always knew she wanted to attend the University of Mississippi, she just wasn't sure what to study. After changing her major from international studies to civil engineering, she finally decided to double major in Southern studies and public policy leadership.
Rachel Winstead felt a similar pull toward Barnard Observatory, and eventually changed her major to Southern Studies as well. Liam Nieman started as a freshman in the program, and continued there for all four years.
"Throughout the course of my studies, I've actually discovered Southern studies and public policy leadership mesh pretty well because the different frameworks that I have learned for policy analysis and evaluation through my public policy leadership classes allow me to think more critically about the issues we talk about in a lot of my Southern studies classes," said Francis, a Provost Scholar from Baton Rouge, Louisiana, who graduates this spring.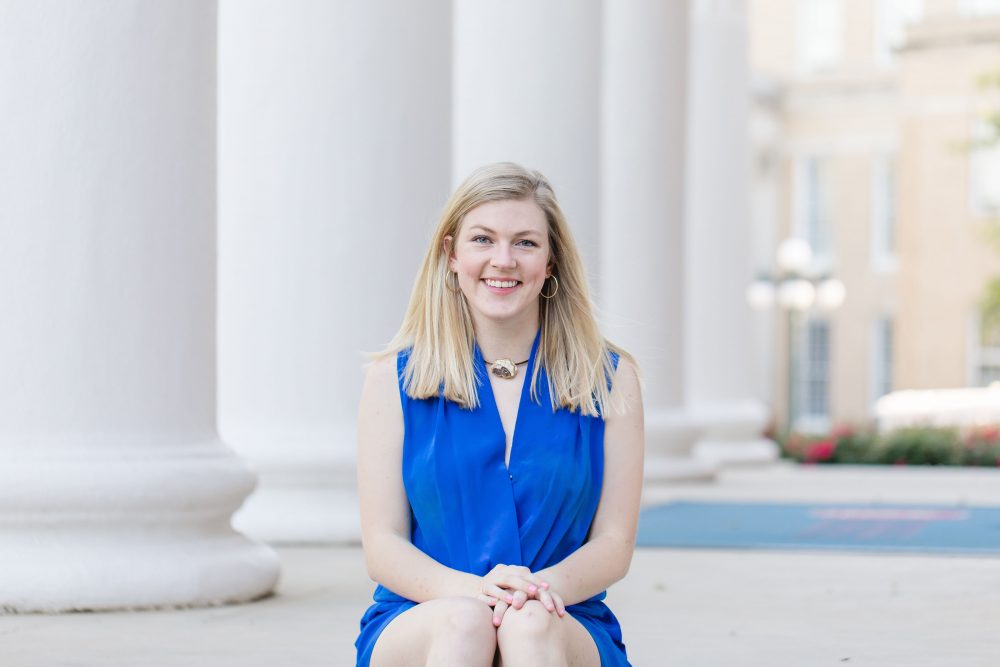 "I truly believe that policy affects nearly every aspect of our lives – whether it is intended to or not – and it has been interesting to discuss how immigration and agriculture policy impact the livelihoods of immigrant workers in Mississippi chicken plants, or to think about how policies related to policing and sentencing disparately affect people of color."
Francis was familiar with Oxford because her parents and grandparents also attended Ole Miss. Her favorite classes included Mississippi Literature with Beth Ann Fennelly, professor of English and Mississippi's poet laureate, and Race, Place and Space with Brian Foster, assistant professor of sociology and Southern studies.
"To anyone thinking about majoring in Southern studies, I would 100 percent say it is a valuable degree, both on its own or combined with another field of study," she said. "I took classes in all sorts of different areas I most likely would have never encountered if not for Southern studies, like anthropology, sociology, foodways and even the upper-level history and English classes I wouldn't have needed for my public policy major.
"If it is something you're at all interested in, then do it! It's a very attainable degree, and I think the new requirements have made it even more so."
Much like everyone else, Francis is dealing with the upheaval from COVID-19. While she remained in Oxford for the remainder of the spring semester for her remote classes, she moved to Denver last week to be with family and to get involved with nonprofit work.
"My dad and my stepmom moved to Denver about a year ago, so I figured moving there was a way to experience a cool and totally different city without being completely alone," Francis said.
"I am sad that I won't get to eat oysters at Snackbar or peruse the shelves at Square Books one last time, but I am lucky because I sort of got to have a senior year last year with all my graduating friends and do a lot of their 'lasts' with them, and I know I'll be back to visit plenty."
Graduating senior Rachel Winstead had a similar change of heart about her studies after a few semesters and decided to major in Southern studies and English as a member of the Sally McDonnell Barksdale Honors College.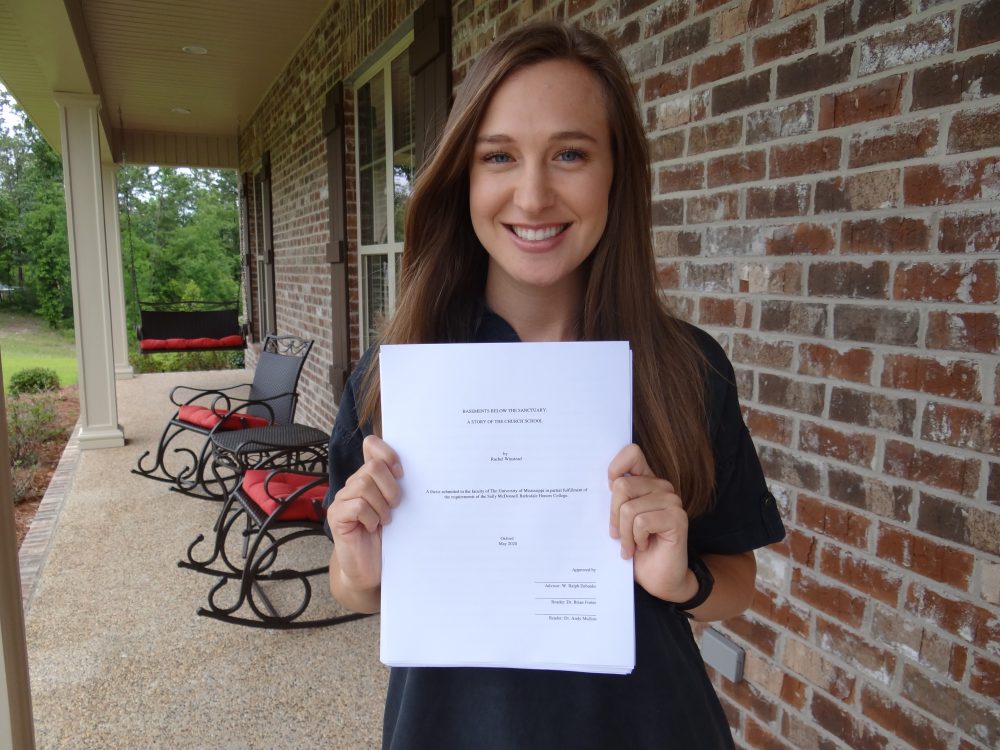 "Since early high school, I knew I wanted to be an English major, and until halfway through my sophomore year, I was majoring in English and French," Winstead said. "The stories I fell in love with during high school took place in some far-away place, and I wanted to become a professor of French literature and get as far away from the South as I could.
"When I took a Southern literature class, I was amazed by the stories of Southern authors. For the first time, I understood the literature I was reading on a personal level. Through Southern literature, I gained a new lens to see my place and myself within the larger world. I gained a deeper understanding of people by studying the place I grew up."
Winstead, a native of Hattiesburg, said her Southern studies courses taught her how the stories of the past constantly influence the present.
"I learned from English, African American studies, history and sociology professors, and most importantly, I learned how to think," Winstead said. "I have a unique perspective on issues as they relate to place.
"Southern studies complemented my study of English perfectly. I supplemented my study of Southern literature with another major to help me understand its context."
For her senior thesis, "Basements Below the Sanctuary: A Story of the Church School," she was inspired after reading a chapter about her high school in Joseph Crespino's study of the Mississippi conservative counterrevolution, "In Search of Another Country."
"In this project, I interviewed educators from my high school and from the Mississippi Association of Independent Schools," Winstead said. "I did a historical study on independent schools in Hattiesburg and traced the legacy of the church school."
Her efforts earned her the Southern Studies Coterie Award for outstanding undergraduate paper.
Having to leave the university in the middle of her last semester because of COVID-19 has been like getting to the end of a book and realizing the author stopped writing in the middle of a sentence Winstead said.
"At first, I stared around in confusion and anger, but I began to realize that this ending made me more aware of myself than a traditional ending ever would have," she said. "While the book did not end as I expected, I have learned something from the last sentence.
"I had to realize what matters the most to me in my life. I have learned to love the people around me through new ways. Rather than go to one more ceremonious last thing, I sit 20 feet across the yard from my grandmother as she tells me how her flowers are blooming on a Tuesday afternoon. It's different than I expected, but it might be more beautiful."
Originally, Winstead planned to teach for a year in China, where she visited last summer and was excited to return. Instead, she will be serving as an Americorps member in Phoenix with Maggie's Place.
"I will be live-in staff at a home for pregnant and parenting mothers who were formerly experiencing homelessness," Winstead said. "After my year of service, I will hopefully attend graduate school and focus my study again on the South."
For senior Liam Nieman, majoring in Southern studies has been a wonderful experience that he recommends to anyone interested in learning about the South because of the topics covered, such as music, film and history.
"While I did learn a lot about the South and America, the program as a whole helped me to develop a framework for thinking about the world," Nieman said. "My Southern studies classes pushed me to question assumptions about this place, ground my beliefs in lessons learned from historical inquiry and articulate those ideas through a combination of critical analysis and compelling storytelling."
Nieman, who is also double majoring in English in the Sally McDonnell Barksdale Honors College, was awarded a Taylor Medal this spring. He was a writer and editor at The Daily Mississippian during his freshman through junior years and spent time with the UM College Corps program as an elementary school reading tutor.
His senior thesis, "Country Fun: A Cultural History of Opryland USA, Nashville and the Suburban South," which earned him the Southern Studies Peter Aschoff Award for the outstanding paper in music, ended up being vastly different than what he initially expected.
"Country music was indeed a part of it and the historical period was late-20th century Southern history, but it was moreso an investigation of how tourism, popular culture, arguments about authenticity and community life in Nashville intersected and clashed from the 1970s through 1990s," said Nieman, a native of Mount Gretna, Pennsylvania.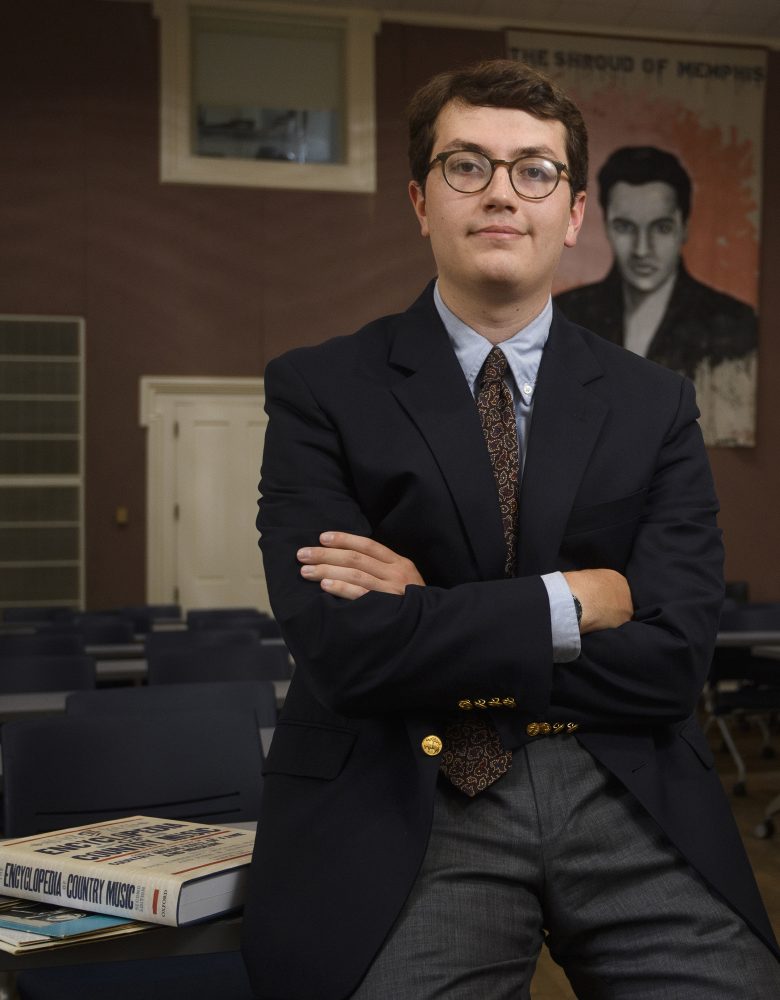 His thesis was informed by research he did for two months last summer as in intern at the Country Music Hall of Fame and Museum in Nashville, Tennessee, which was funded by the Julian and Kathryn Wiener Endowment through the Center for the Study of Southern Culture.
"It's where I did the research that allowed me to change my topic and where I had conversations with some of my co-workers that impacted how I thought about country music," Neiman said. "I'm also surprised how much of the thesis was about Nashville itself, and my time at the Hall of Fame definitely allowed me to get a glimpse of what life in the city is like."
Nieman's post-graduation plans have shifted dramatically, particularly since he was awarded a Fulbright to conduct research in Norway. But in light of COVID-19, he plans to join the community at St. Hilda's House in New Haven, Connecticut.
"I'll be with a small group of housemates, serve with a local nonprofit or church and participate in life at Christ Church of New Haven," he said. "St. Hilda's is part of the Episcopal Service Corps, which is sort of like AmeriCorps but with the added dimension of letting participants discern where they feel called to go after finishing.
"I think community and solidarity will be extremely important this next year, so I decided against going abroad when the pandemic might still be raging."