SouthTalks: "I Am from Here: Stories and Recipes from a Southern Chef"
-
-
SouthTalks: "I Am from Here: Stories and Recipes from a Southern Chef"
When:
September 21, 2022 @ 12:00 pm – 1:00 pm
2022-09-21T12:00:00-05:00
2022-09-21T13:00:00-05:00
Where:
Barnard Observatory, Tupelo Room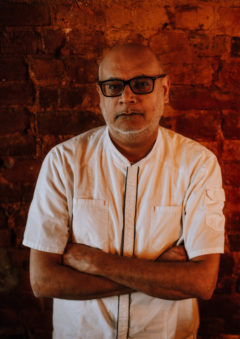 Vishwesh Bhatt has been the chef at Snackbar in Oxford since its opening in 2009. A native of Ahmedabad, Gujarat, India, Bhatt is a graduate of the University of Kentucky. He moved to Oxford after college to begin a graduate program in political science but soon abandoned academia for restaurant kitchens. When folks in Mississippi ask him the loaded question, "But where are you really from?" his response is, "I am from here." That's the title of Bhatt's cookbook. Throughout the book Bhatt tells stories of understandings forged over shared meals and explores the common ingredients that connect global cuisines, particularly those of India and the American South.
Bhatt will be in conversation with Sara Camp Milam, managing editor of the Southern Foodways Alliance. Milam has a BA in Spanish from Princeton University and an MA in folklore from UNC-Chapel Hill.
Copies of "I Am From Here" will be available for purchase at the event.
SouthTalks is a series of events – including lectures, performances, film screenings and panel discussions – that explores the interdisciplinary nature of Southern Studies. This series is free and open to the public, and typically takes place in the Tupelo Room of Barnard Observatory unless otherwise noted.