Each year, the Center for the Study of Southern Culture recognizes the writing talent of Mississippi high school students with the Eudora Welty Awards in Creative Writing. Presented during the Faulkner & Yoknapatawpha Conference on July 20, the awards are given for creative writing in either prose or poem form. Established and endowed by the late Francis Patterson of Tupelo, the prize for first place is $500, and $250 for second place. In addition, each winner also receives a copy of the Literature volume of The New Encyclopedia of Southern Culture.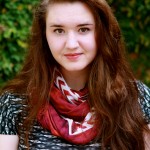 This year's first-place winner is Jessica Garner of St. Andrew's School in Ridgeland for her story "Momma Says." The judges were impressed by her use of language to tell the story of a daughter coming to terms with her mother's death. "When the sun comes up in the morning we pull our coats close around us and as I step into the morning mist that glows with sunlight, I see every detail of Momma's stories come to life. The sun's sleepy rays illuminate the mist and make it dance and shimmer in the stout sea breeze, which carries the scent of crackling brick ovens and baking bread mingled with algae and exhaust."
This year's second-place winner is Rachel Jones, a McComb native who attends the Mississippi School for Math and Science in Columbus, for her poem "Sunday Symphony." The judges enjoyed her use of imagery in the poem about a grandmother, including the lines, "She gives us our stained plastic bowls/ And we eat our rations in the yard/ Where the grass licks our ankles/ and the mosquitoes kiss our skin."
The Center congratulates the winners on their success.