Encyclopedia Text Accompanies Visual Images in Gammill Gallery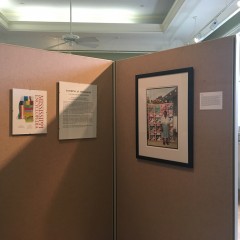 The Center's collection of William Ferris photographs help bring Mississippi Encyclopedia text to life in the Gammill Gallery this month.
Ferris served as director of the Center for the Study of Southern Culture from 1979 to 1997. A native of the Vicksburg area, he began photographing rural life on and near his family's farm, Rose Hill, at age 12. His early interest blossomed into a passion, then a calling, as he made a distinguished academic career as a folklorist and educator. A large selection of his black and white photographs can be found in three of his books, and most of the color images on display are in his most recent "The South in Color: A Visual Journey."
The Center's work on the Mississippi Encyclopedia began in 2003 and came to completion in spring 2017, representing a mammoth collaboration including more than 1,600 entries and 1,461 pages featuring the work of more than 600 scholars. This summer and fall various events celebrate its publication.
The Ferris images selected are loose visual interpretations of the Encyclopedia text, accompanied by short excerpts of the entry. They include Theora Hamblett, one of the South's most distinguished self-taught artists; Eudora Welty, whose talent and importance as a major American writer were recognized nationally and internationally; and Margaret Alexander Walker, a poet and novelist who was in an illustrious group of African Americans writing in the 1940s. Along with these and other specific photos of musicians and activists are general images for Encyclopedia entries about sculpture, juke joints, religious architecture, watermelon, and Highway 61.
The Gammill Gallery is open Monday through Friday from 9:00 a.m. – 5:00 p.m., except for University holidays.