An assignment for a documentary class ended up expanding into a thesis for Christina Huff. In 2019, Huff enrolled in John Rash's class and had to document a small community. She decided to attend a drag show in Tupelo, Mississippi and reach out to the group of performers.
"I had gauged the interest of two drag queens by the names of GoDiva Holliday and DeePression Holliday, and after I spent an entire afternoon with them, we talked about the possibility of working together long term," said Huff, a documentary and experimental filmmaker. "The research was tricky because while I spent a lot of time digging for articles and journals for drag performance in the South, the materials I was looking for were scarce. There were some, but I was hoping that there would be a much larger, broader range of work of studying queer subculture in the South, more specifically drag performance. I felt frustrated by the lack of work that was available, but it also just further solidified that this was the work that I was supposed to be doing."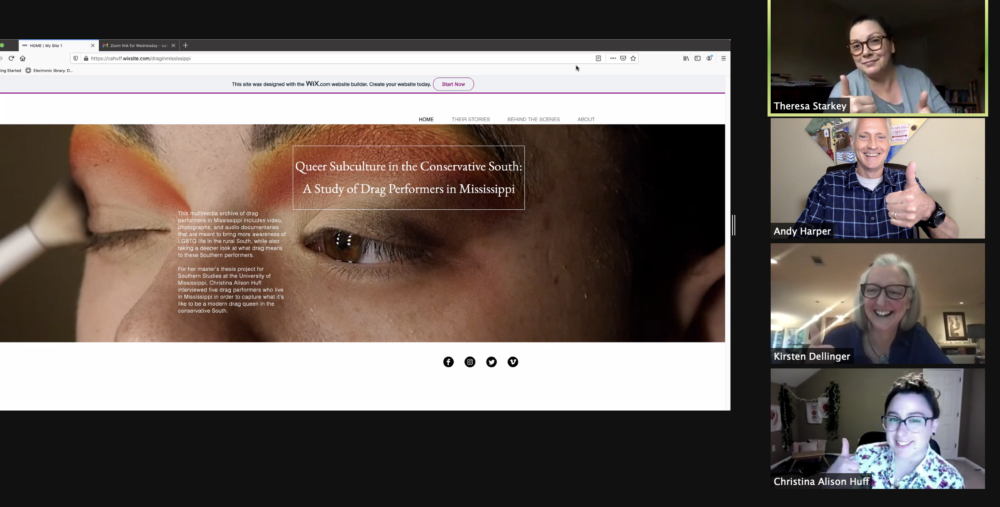 On April 14, Huff defended her thesis "Queer Subculture in the Conservative South: A Study of Drag Performers in Mississippi" to her committee of Kirsten Dellinger, associate dean for diversity and inclusion and professor of sociology; Andy Harper, director of the Southern Documentary Project; and Theresa Starkey, associate professor of gender studies and associate director of the Isom Center.
Huff received a dual bachelor's degree in art and Southern Studies from the University of Mississippi, and prior to graduate school, she worked at Ole Miss Sports Productions in the control room during game day events. She also worked in sports archival footage, digitizing and organizing old film and tape.
Additionally, Huff was the Center's first graduate assistant for the Emmett Till Interpretive Center, working as a filmmaker and on creative content.
"I have spent the past year working on documentaries to further help tell the story of Emmett Till's legacy," Huff said. "One project I've worked on over the past year was the fifteen episode docu-series, Surviving and Thriving: Covid-19 in the Mississippi Delta, where I spent time traveling and interviewing people about their experiences and struggles during the Coronavirus Pandemic in the Mississippi Delta. I've been working on other projects as well, such as conducting oral histories about Emmett Till and the restoration projects that have been happening in the Delta, and helping produce a short weekly series called Thoughtful Thursdays with the Museum Director, Benjamin Saulsberry."
As has been the case for the last year, Huff had to navigate the world in the time of COVID-19, which was especially difficult for a documentarian who works in the field.
"I had no idea how I was going to navigate my documentary work online, especially with a topic that relied on in-person work such as attending drag shows," Huff said. "I also missed the smaller things that we often take for granted in school, like seeing my colleagues and mentors in the hallways or catching up with friends while walking to class. I had no idea how much I was going to miss the people and the small but pertinent conversations that you hold on to for the rest of your life that makes graduate school the unique experience that it is. I can always go back and capture footage and tell a story, but I can't really go back and make up for the lost time that I could have spent making friendships and gaining lifelong mentorships. Coming to grips with that is hard, but even with COVID-19, I was able to stay in contact with my closest mentors, and that has meant a lot to me as a student."
The biggest lesson Huff learned is that rolling with the punches is important.
"In the beginning when Coronavirus was becoming a big problem in the United States, I dragged my feet on all of my projects because I thought putting them on hold and waiting it out was going to be the smartest thing to do, but it wasn't," Huff said. "I did get some work done, but not as much as I wanted to. This was a lesson for me to just keep working."
Her work has not gone unnoticed, as she won first place at the 2021 Oxford Film Festival in the Mississippi Short category for her film "Genderf*ck Drag."
Fortunately, Huff will be able to recover this summer and do more fieldwork. She will also be making up for lost time before she begins the Master of Fine Arts in Documentary Expression at the Center this fall.
"I do wish I had not put so much on hold waiting for it to end. That's my biggest regret, but also the biggest lesson that I am so grateful for," Huff said.
Written By Rebecca Lauck Cleary