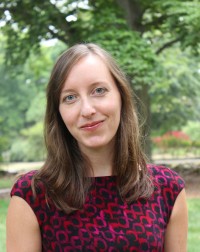 On this first day of classes, we welcome new faculty member Jessica Wilkerson.  Two new faculty members join us this fall, Jessie and Catarina Passidomo.  Read more about Catarina in an earlier blog post.
This interview of Jessie by Jimmy Thomas originally appeared in the Summer 2014 Southern Register.
This fall, the Center for the Study of Southern Culture and the Department of History will welcome Jessica Wilkerson as a new assistant professor of history and Southern Studies. Wilkerson comes to the university from the University of North Carolina at Chapel Hill where she completed her doctoral work in the field of women's and gender history. Prior to entering UNC-Chapel Hill she took a master's degree from Sarah Lawrence and a bachelor's degree from Carson-Newman College in Jefferson City, Tennessee.
In the midst of making the move from Chapel Hill to Oxford, Wilkerson let Jimmy Thomas interrupt her long enough to field a few questions.
JT: You earned your bachelor's degree in English with a minor in music. What eventually drew you to the field of history, specifically to that of Southern history?
JW: When I was an undergraduate I had the good fortune to take a seminar in U.S. women's history. Before that course I had only taken lecture-based history courses. For me, reading the works of the first generation of women's historians in a seminar really changed my understanding of what it meant to study history and who is a part of history. I never looked back. I went on to receive my master's degree in women's history from Sarah Lawrence College before moving on to a PhD program in history. As often happens, after I moved to New York to attend Sarah Lawrence (a totally new and different place to this Tennessean), my interest in the South and Appalachia intensified, and I decided to write about the places and people in my home region. At some point I also came to understand—and I think this is important for many Southern and women's historians—that it often takes people who come from or know a certain place to tell a particular history. I don't believe at all that those are the only people who can research and write that history, but it is true that it is often a person who cares deeply about a community, region, or group who first takes the initiative.
JT: What classes are you teaching this fall?
JW: Southern Women in History (History 336). The course will explore the history of women and gender in the American South from the colonial period to the present. Students will examine standard themes in the field, like the history of the plantation household in the South. But I will also be introducing them to recent works on women in the civil rights movement as well as new research on Southern feminism. My goal is for students to come away with an understanding of the major issues and debates in the field of women's history, as well as to gain plenty of practice reading, analyzing, and developing arguments about the ways in which women molded politics, society, and culture in the American South.
I'll also teach Introduction to Southern Studies (SST 101) with Barbara Combs. Barb and I decided early on that we wanted to teach Jesmyn Ward's novel Salvage the Bones, which has quickly become one of my favorite works of fiction. The novel revolves around the experiences of an adolescent girl in the days leading up to Hurricane Katrina in the Mississippi Gulf. We will build up to that novel by examining the South through the lens of youth and childhood, from Jim Crow to Hurricane Katrina.
JT: You've written quite a bit on the topics of gender, class, and labor, often in tandem. Do you gravitate toward one of those fields more than the other?
JW: I think it's fair to say that I came to an interest in all of these areas at once, as my research has always focused on working-class and poor women in the South and Appalachia. I do, however, feel a strong pull toward documenting and analyzing the history of women and gender in the South. Over the course of the 20th century the gender order shifted profoundly in the U.S., as social movements surged, women entered the labor force in unprecedented numbers, and new federal policies pushed for gender equity. Black and white women in the South were often at the forefront of those changes, and they had a specific set of skills and experiences to offer, as well as particular visions of progress. In many ways we are still reeling from these changes, as issues of gender continue to animate current policy and political debates. As a historian and citizen, I think it's important to link these debates to the history in which they are rooted.
JT: Tell me a little bit about your dissertation.
JW: My dissertation, "Where Movements Meet: From the War on Poverty to Grassroots Feminism in the Appalachian South," explored the overlapping, democratic movements in the Appalachian South in the 1960s and 1970s. As I conducted oral history interviews with the people who led and participated in federal War on Poverty programs in Appalachia, I discovered a rich but overlooked history of women's organizing. The women I wrote about were key leaders and foot soldiers in what contemporaries called the Appalachian Movement, which intersected with civil rights organizations and had its roots in the War on Poverty. Consulting a wide variety of sources, from film archives to manuscript collections and oral history interviews, I showed that women shaped the federal War on Poverty at the grassroots and then used the skills they learned in antipoverty programs to foster social justice activism, from welfare rights to labor and women's rights.
JT: You've obviously done quite a bit of work using oral history. How will you use that approach in the classroom?
JW: The opportunities for bringing oral history into the classroom are endless! One teaching method that I learned from Della Pollock and Jacquelyn Hall at UNC's Southern Oral History
Program is the practice of "listening out loud." After listening to or conducting an oral history interview, I ask students to actively engage the historical voice by retelling the story in their own words. This process reflects what is so powerful about oral history: the transformative act of listening. Once students have listened to and shared a set of stories, we then dig into the analytical work of placing them in historical context and examining the role of narrative and memory in history. I am also eager to teach students oral history methods, working with them to develop fieldwork projects and to follow best practices. In Intro to Southern Studies, students will be working on small oral history projects as one of their assignments, but I hope in the future to teach a semester-long course on the practice of oral history.
JT: I know you're only just now arriving on campus, but do you anticipate any advantages of working with the interdisciplinary Center faculty?
JW: The opportunity to work in an interdisciplinary department was one of the major attractions of the University of Mississippi for me. I have benefited immensely from collaborating with scholars across disciplines during my graduate training, especially as I have worked on oral history and digital history projects that required the skills of scholars from multiple fields. I thrive on that kind of collaboration and I look forward to exploring opportunities at the Center.