Foster enjoys designing courses to challenge and engage students
Brian Foster is enjoying quite a successful conclusion to a wild ride of a year: the University of North Carolina published his book, he learned he would be co-editor of a prestigious sociology journal, and earned the honor of Mississippi Humanities Teacher of the Year.
Foster, assistant professor of sociology and Southern studies, is this year's honoree from the University of Mississippi.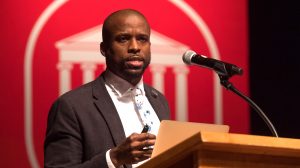 The College of Liberal Arts and the Mississippi Humanities Council co-sponsor the Humanities Teacher of the Year Award recognizing outstanding contributions of humanities faculty at the University of Mississippi with a free public lecture during National Arts and Humanities Month in October and at the Mississippi Humanities Council annual awards ceremony in the spring. All state universities and community colleges honor a faculty member.
"The College of Liberal Arts asks for nominations from department chairs who have humanities faculty, and then a committee of three former winners chooses the winner," said Donald L. Dyer, associate dean for faculty and academic affairs and distinguished professor of modern languages. "Every year, working with the Mississippi Humanities Council, we are so happy to have the opportunity to pause and honor a member of our humanities faculty who is doing great work in the classroom."
Foster said when he saw the email from Dyer, the honor surprised, then immediately validated, him.
"I always appreciate the positive and excited feedback that I get from students about the classes that I teach, and I'm grateful for the nice things that many of my colleagues have had to say about my work in the classroom," Foster said. "I love engaging young people in the classroom. I love designing courses that are fun and challenging and engaging both for my students and for me. I try not to take myself or the classes that I teach too seriously (which I think can be counterproductive for certain learning outcomes). I try to push the students who take my classes to do more and better; and I give them grace when it's needed. I do all of that because I am committed to the craft, and, for better or worse, not because I expect to be rewarded for it. I think we all want to know that the time and energy we put into our work is seen and valued."
Last year's winner was Patrick Elliot Alexander, associate professor of English and African American Studies, and the last Southern Studies professor to win was Katie McKee, McMullan Professor of Southern Studies and professor of English, in 2001.
In a normal year, the winners receive a free ticket to the MHC awards gala in Jackson, during which they are recognized by name. Due to COVID, it will most likely be held virtually on March 26, 2021. Foster is tentatively set to give the annual lecture virtually on Monday, March 8, 2021.
"The Humanities Teacher of the Year program is a wonderful way to highlight the work of outstanding humanities teachers in Mississippi and lift up the importance of the humanities disciplines," said Stuart Rockoff, executive director of the MHC. "We are very excited that Brian is receiving this recognition. I've been following his work from afar for several years, and hope to be able to engage him with our work in the future."
Foster also expressed appreciation for Center Director Katie McKee and Jeff Jackson, chair and professor of sociology, who nominated him, and for all of the words of congratulations from friends and colleagues.
"I deeply value what students have had to say about the classes I teach," Foster said. "I'm sure having this recognition will add to my professional profile. But, I'm motivated by the craft and excitement of teaching and learning, of language and ideas. I'll keep challenging myself to be better at what I do. I'll keep hearing from students on what I can do better. I'll keep building classes that excite and invigorate me, and hopefully strike up some deep curiosity in the students who take my classes. It's about the journey for me."
Written By Rebecca Lauck Cleary