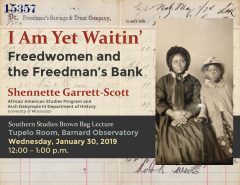 Shennette M. Garrett-Scott is an associate professor of History and African American Studies at the University of Mississippi. Her work as a historian of gender, race, and business focuses on black women in the financial industry. Her Wednesday, Jan. 30 talk at noon will be on her forthcoming book Banking on Freedom: Black Women in U.S. Finance Before the New Deal, the first full-length history of finance capitalism that centers black women and the banking institutions and networks they built from the eve of the Civil War to the Great Depression. It will be published in Spring 2019 on Columbia University Press.
Advance Praise of Banking on Freedom: Black Women in U.S. Finance Before the New Deal:
"Garrett-Scott's compelling and highly original account demonstrates that, for black people, banks were more than financial institutions. In the hands of black women, capital accumulation, credit, and insurance became community-building practices, mutual aid, strategies for collective survival, and sources of contestation."—Robin D. G. Kelley, author of Thelonious Monk: The Life and Times of an American Original
"Banking on Freedom makes a tremendously monumental contribution to African American banking history, and it substantially enriches our understanding of U.S. finance and capitalism."—Juliet E. K. Walker, author of The History of Black Business in America: Capitalism, Race, Entrepreneurship
"Rich and brilliant."—N. D. B. Connolly, author of A World More Concrete: Real Estate and the Remaking of Jim Crow South Florida
"Banking on Freedom is a paradigm-shifting work that stands to make a monumental contribution to the field and is certain to inspire future generations of scholars."—Tiffany Gill, author of Beauty Shop Politics: African American Women's Activism in the Beauty Industry
"Garrett-Scott reclaims the stories of black women who—as bank founders and clerks, investors, aspiring homeowners, loan seekers, and those denied loans—asserted their own economic ethos. A compelling account of black women's ideas about money, savings, lending, obligation, and economic well-being."—Elsa Barkley Brown, University of Maryland
"A beautifully written, comprehensive, and highly original study of black women's savvy business acumen in the aftermath of slavery through the early twentieth century. Garrett-Scott should be commended for boldly modeling just how gender and race shape capitalism and finance in ways few scholars have addressed."—Daina Ramey Berry, author of The Price for their Pound of Flesh: The Value of the Enslaved, from Womb to the Grave, in the Building of a Nation
The Brown Bag Lecture series takes place at noon on Wednesdays in the Tupelo Room of Barnard Observatory unless otherwise noted.