Center Presents Free Concert by Alphonso Sanders in the Grove June 12
Jazz musician Alphonso Sanders plays in the Grove at 6 p.m. Sunday, June 12 as part of the month-long Summer Sunset Series. The concert is sponsored by the Center for the Study of Southern Culture and is free and open to the public.
Sanders, a multi-instrumentalist, is the Chair of Fine Arts and Director of the B.B. King Recording Studio at Mississippi Valley State University, and has been involved in music education for more than 25 years. As the Director of the B.B. King Recording Studio he is involved in archiving the music of Delta musicians. As a Fulbright Scholar, Sanders studied abroad in China visiting 12 major cities, exploring the culture of Chinese music and visual arts. In 2011, the Mississippi Humanities Council honored him as the Humanities Teacher of the Year. He received degrees in music from Mississippi Valley State University, Valdosta State University and the University of Mississippi.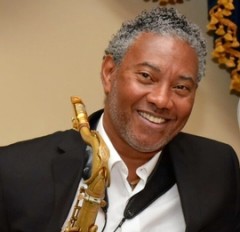 Sanders performed for the Center's Mississippi Delta Cultural Tour in May 2014, which was directed by Jimmy Thomas, associate director for publications. They first met in Leland, when Sanders played at Vince's Restaurant.
"Alphonso Sanders a real presence for jazz in the Delta – a place that's otherwise known for its blues," Thomas said. "He does so much with music education as someone who's not only performing but teaching and enabling Delta youth to appreciate other musical genres."
Sanders has performed at many festivals including the North Sea Jazz Festival, Den Hague, Netherlands; the Montreux Jazz Festival, Montreux, Switzerland; the Lucerne Blues Festival, Lucerne, Switzerland; the Mobile Jazz Festival; Southside Shuffle Festival, Ontario, Canada; and many of the Delta Blues festivals. In 1997, he founded the Joy Spring Jazz Ensemble, which still provides music jobs for local musicians.
In addition, he has performed with such artists as Bill "Howl-N-Madd" Perry, Mulgrew Miller, Rhonda Richmond, Cassandra Wilson, John Birdsong, Paula West, Debra Brown, Bobby Rush, David Lee Durham, Jessie Robinson, Ron Wilkins, Craig Harris, Burgess Gardner, Joe Jennings, Alvin Fielder, London Branch, Vickie Baker, Chris Parker, Little Dave Thompson, Willie King, Ben Payton, Kenny Blake, The Four Tops, David "Honey Boy" Edwards, and Carl Allen among others.
Other Summer Sunset Series concerts include the Luke Fisher Band (Americana, alt-country), presented by the YAC June 19, and the Black Water Trio (acoustic), presented by the University Museum June 26.