In the Courtyard: Alumni Spotlight on Natoria Kennell-Foster
Southern Studies Carries over into a Passion for Baking
Natoria Kennell-Foster first starting baking about fifteen years ago, when her pastor's wife taught her to make a red velvet cake and a German chocolate cake. She was immediately hooked and embraced the knowledge being passed on to her.
Then, in 2019, her husband Lavender started Foster's Sweeties. Eventually, they both ended up navigating the bakery life together.
What is it like to live and work together? She says, in a word: funny.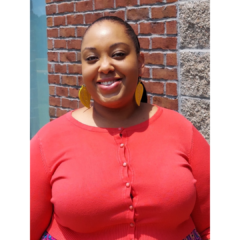 "Since we are cottage bakers, we bake from our home, which means navigating one kitchen often at the same time," Kennell-Foster said. "We are very different in how we prep and move, so it's been quite hilarious watching us find some rhythm to deal with our different quirks. It took a while, but we now move like a well-oiled machine. Even when it was crazy, though, I still absolutely loved doing this with him. I want him in the kitchen with me even when he's not baking!"
Their baking adventures take them all over town. "We started at the Mid-Town Farmers' Market in the summer of 2019, and that market led us to the Oxford Community Market in 2020," she said. "We love working at both and think of each as a different extension of our family. We appreciate the people of Oxford and our market families for welcoming us with such open arms and for helping us to continually grow. We look forward to what the future brings with Foster's Sweeties."
Being able to sell their baked goods at both of those markets is also a way to meet new people, as well as to see returning customers. "For sure the people are the best part, or maybe serving them is," she said. "We love meeting new people and being able to help them. It brightens our day when one of our baked goods can bring a bit of happiness to people. We do everything with love, so serving others is our way of spreading love."
Of course, every baker has something they enjoy making the most. "Pound cakes are probably my most favorite thing to bake," she said. "I love coming up with different flavors. Chantilly cakes, or anything that includes mascarpone, are probably a close runner-up."
Foster earned her Southern Studies master's degree in 2011, and she says the degree also helps her in the kitchen. "I think it helps me be more aware," she said. "I see things in a different way than I did before studying culture as an art. I love being able to say that Southern Studies was once home!"
Written by Rebecca Lauck Cleary. A version of this article appeared in the Winter 2022 issue of the Southern Register. Are you a Southern Studies alum who would like to be featured In the Courtyard? Let us know!