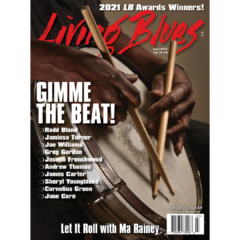 Living Blues #273 is the third in the history of LB that is dedicated to drummers—looking at the important roles played by blues drummers, including the first two female drummers ever covered by the magazine. The ten artists anchor the backbeat of the genre. Artists featured include Rodd Bland, Jamiesa Turner, Joe "Iceman" Williams, Greg Gordon, Joseph "Lil' Joe" Frenchwood, Andrew "Blaze" Thomas, James Carter, Sheryl Youngblood, Cornelius "CG" Green, and June Core.
Let It Roll features Ma Rainey and her mid-October 1924 session for Paramount Records. Ma Rainey was one of the very first stars of the blues and her October 1924 sessions rank as some of the best of the pre-1925 blues recordings.
All of this plus the latest in Blues News, the 2021 Living Blues Awards winners, LB Talks To Alligator Records President Bruce Iglauer, over 50 record reviews, and the Living Blues Radio Charts.
Digital and print subscriptions to Living Blues start at just $18 and are available at www.livingblues.com.