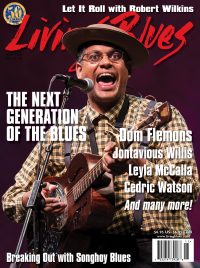 Living Blues #269 (November /December 2020) concludes the 50th Anniversary celebration with a look forward at the future of the blues with the "Next Generation of the Blues" special issue.
At age 38 multi-instrumentalist Dom Flemons has spent the last 15 years taking a deep dive into the roots of African American music eager to understand more about the story of the blues. First as a founding member of the Carolina Chocolate Drops and now as a solo artist, Flemons has dedicated his life to sharing what he learns. Greenville, Georgia native Jontavious Willis fell for the blues 10 years ago and since then has been laser focused on learning, exploring and sharing the blues. Another member of the Carolina Chocolate Drops to set off on a solo career, New York-native Leyla McCallahas spent the last decade discovering her own voice and exploring the power of music paired with a social conscience. Multi-instrumentalist Cedric Watson is a true expression of the modern Creole man. An early member of the Pine Leaf Boys, Watson has dedicated his life to exploring the music and traditions of his native eastern Texas and south Louisiana. We also profile six rising, young blues artists including Andrew Alli, Sean "Mack" McDonald, Allison Russell, Tevis Hodge Jr., Marcus "Mookie" Cartwright, and Jayy Hopp. This issue's Let It Roll column focusses on Robert Wilkins'recording session for Brunswick Records at the Peabody Hotel in Memphis on September 23, 1929, a session that yielded his famous tune That's No Way to Get Along. Jim DeKoster takes a look at 50 recordings by 50 artists born since Living Blues was founded in 1970.
All of this plus the latest in Blues News, record reviews, and the Living Blues Radio Charts!
Digital and print subscriptions to Living Blues start at just $18 and are available at www.livingblues.com.