Watch the new SouthDocs/MDAH Voting Rights Act Film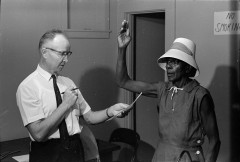 A few weeks ago we had the premiere screening of a new SouthDocs short about the 1965 Voting Rights in Mississippi, produced in partnership with the Mississippi Department of Archives and History. You can now watch it on the MDAH YouTube page and below. Read more about the film on the MDAH website, too.
The film was produced by Andy Harper of SouthDocs and Becca Walton of the Center, and edited by Matthew Graves of SouthDocs.