Voting Rights Act Film Screening Tuesday in Jackson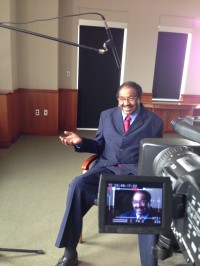 On Tuesday, September 22 at 5:30pm, the Mississippi Department of Archives and History will host a screening of a new Southern Documentary Project film, 50 Years and Forward: The Voting Rights Act in Mississippi.  The short film is a project of MDAH and SouthDocs, utilizing archival material from a number of MDAH collections to tell Mississippi stories through film.
Interviewees included William F. Winter, Leslie-Burl McLemore, Minion "KC" Morrison, Flonzie Brown Wright, Rims Barber, Robert G. Clark, Jr.,
David L. Jordan, Wendell Paris, and John Horhn. Julia Young, Amanda Lyons, Leandra Straka-Oh, Chris Goodwin, Katie Blount, and many other MDAH staff members helped with the project. Andy Harper and I produced the film, and Matthew Graves edited it.
Following the screening of the short documentary there will be a panel discussion with Rims Barber, Leslie-Burl McLemore, and Flonzie Brown Wright that will be moderated by Andy Harper.

Seating is limited for this free event; RSVP to 601-576-6847 or tdavis@mdah.state.ms.us. The screening will be in MDAH's William F. Winter Archives Building at 200 North Street. Come see us, Jackson friends!