If earning a graduate degree seems like a daunting task, imagine obtaining two at once. Martha Grace Mize accomplished this, and will be the first person to earn dual master's degrees in Southern Studies and anthropology from the University of Mississippi.
"I think the Center for the Study of Southern Culture and the Department of Sociology and Anthropology are two programs that were just a natural fit," Mize said. "The combination made sense for me and my potential research interests when I applied.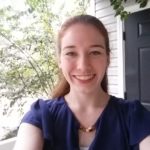 Mize earned her bachelor's degree in anthropology with minors in business administration and Southern Studies, so she knew the Center for the Study of Southern Culture and the sociology and anthropology department faculty already had strong working relationships. This meant she didn't necessarily have to choose one over the other, and that she could work with both.
Once the process to get two degrees was formalized, Mize said it was the best possible decision.
"In Southern Studies, there is a lot of freedom and exposure to so many different perspectives of the U.S. South., and in anthropology, there is a strong drive and dedication to the four fields that push social science into application," she said. "Both the Center and the department have faculty, staff, and students who work well together and foster supportive environments.
"It's the people that convinced me it was possible, that I could do it, and made me feel like I wouldn't be alone in the process."
Mize, who successfully defended her thesis April 21, also had a committee of Marcos Mendoza, associate professor of anthropology; Jodi Skipper, associate professor of anthropology and Southern studies; Catarina Passidomo, Southern Foodways Alliance Associate Professor of Southern Studies and associate professor of anthropology; and Darren Grem, associate professor of history and Southern Studies, to help her through her time at the university.
Mize has been extremely proactive in designing her simultaneous degree programs so that she would meet all the requirements of both degree within three years, Passidomo said.
"I'm just such a big fan of Martha Grace because she has been a natural leader and has contributed so much to both graduate programs," Passidomo said. "I've actually worked most closely with Martha Grace in her capacity as a teaching assistant, and she has been tremendously helpful. I've also had Martha Grace in class as a student, and she is thoughtful, smart, and incredibly organized."
Mendoza, the thesis committee chair, echoed those sentiments.
"I'm incredibly proud of Martha Grace's efforts over the last three years," said Mendoza, associate professor of anthropology. "I'm delighted that she has the distinction of being the very first person to graduate from this dual M.A. program in anthropology and Southern Studies in the history of the university."
Mize's thesis was on "Revitalization in the Alabama Black Belt: Cultivation of a New Civic Hegemony in Rural Main Street America." Her research drew upon qualitative ethnographic methods: participant observation and interviews conducted in Marion, Alabama, a town of approximately 3,000 inhabitants, the majority of whom are African American.
She investigated the economic development initiatives and situated her ethnographic work within theoretical frameworks from both anthropology and Southern Studies, which will contribute enormously to existing scholarship on the cultural anthropology and human geography of the area.
"I grew up in a county bordering the Alabama Black Belt, and it's been a part of my life for as long as I can remember," Mize said. "The region has many similar cyclical struggles to those of Appalachia and the Delta, but that's not the most important thing about the place.
"Conversations and interviews with various individuals and local organizations helped me delve further and taught me even more than when I lived in the community. I think the project has eventually led me to conclude that, even if local efforts aren't always successful in the traditional sense, sometimes, especially in places like the Alabama Black Belt, the shift in mindset can be just as valuable."
Mize was pleased to be able to write her thesis on something so meaningful to her, despite several setbacks during her time at UM. She had mononucleosis her first year and COVID-19 last summer, but still managed to stay on track.
"If you're looking at programs and need the freedom for exploration in any aspect of the U.S. South, especially if you don't know what you might want next in life, the Center will be there for you as you figure that out. The Center also generally has the resources to make it happen once you figure out your passion."
That passion has already sparked a second student to enter the dual degree program this fall.
"Martha Grace laid a solid foundation, and we're excited that others want to build onto it," Passidomo said. "There are a lot of natural synergies between Southern Studies and other disciplines, so I hope we continue to attract students interested in pursuing dual degrees."
Mize's work also earned her the Graduate Student Achievement Award for Anthropology and Sociology from the College of Liberal Arts and the Jay Johnson Award for Outstanding Graduate Student in Anthropology from the Department of Sociology and Anthropology.
Written by Rebecca Lauck Cleary