Blues at the Center
Article by Rebecca Lauck Cleary, originally published in the Winter 2015 Southern Register
A Southern Studies program class description from Fall 1984 encouraged students to "Study the Land That Gave Birth to the Blues." Since then, the Center for the Study of Southern Culture and the University of Mississippi have continued to be the foremost institution for blues scholarship. With the Blues Archive, Living Blues magazine, Highway 61 Radio, undergraduate and graduate courses taught on the subject, new blues-topics films being created, and annual conferences and symposia on blues and blues culture, the Center is a prime location to study and explore this iconic Southern music and culture.
Southern Studies students studying one aspect of blues culture or another—whether for assigned readings or independent research for a thesis or paper—often find their way to the Blues Archive in the J. D. Williams Library early on.
"We've even had Southern Studies students over simply to listen to some recordings on vinyl that they can't easily find elsewhere," said Greg Johnson, blues curator and associate professor in Archives and Special Collections. "Several faculty and staff have conducted research here for various projects. The Blues Archive also partnered with Southern Studies and the Library of Congress for the Field School for Cultural Documentation: North Mississippi Music Project." That project includes oral histories from musicians in and just outside the Oxford area, representing a sampling of the large number of performers and musical styles from this area.
Johnson said students from across many disciplines use the collection as well, from music, history, and even accounting and business.
Local faces aren't the only ones perusing the collection, as international visitors come to the Archive to comb through B. B. King's personal record collection, the Jim O'Neal and Amy van Singel/Living Blues Collection, the Trumpet Records Collection, the Sheldon Harris Collection, the John Richbourg Collection, and the Percy Mayfield collection.
"During the summer months, at the peak of blues festival season, we get a lot of blues fans from Germany, Denmark, France, Japan, South Korea, the Netherlands, Finland, Sweden, Norway, and other countries," Johnson said. "Some are stopping in to do research, while others just want to see cool materials unavailable elsewhere."
Footage from the collections has been used in the Martin Scorsese Presents: The Blues series for PBS. Former Rolling Stones' bassist Bill Wyman conducted research here for his Blues Odyssey book and DVD, and Ted Gioia spent time there working on his book Delta Blues. Southern Studies alum Preston Lauterbach used the archive in writing The Chitlin' Circuit and The Road to Rock 'n' Roll.
Most recently, earlier this semester, the director of Teen Wolf conducted research in the Archive, while working on a documentary of Nashville disc jockey John Richbourg, whose collection is housed there.
In order for students to learn about the blues, their professors must be well versed in its traditions. In the English Department, Derrick Harriell, assistant professor of English and African American studies, focuses his teaching interests on blues poetry and Harlem Renaissance Literature.
"Blues is the music and culture of the people, which is why it functions as the underpinnings in my writing as well as my approach to the classroom," Harriell said. "I've always preferred to identify myself as more moderator than teacher; therefore, I'm interested in my classrooms having the sort of call-and-response interaction that is so prevalent in blues performance. I'm fortunate to work at a university and live in a town where the blues is privileged, and I often incorporate the resources of the blues archive and or the knowledge of its genius curator Greg Johnson."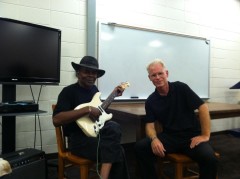 As associate professor of English and Southern Studies, Adam Gussow incorporates blues scholarship in his classes, specifically SST 598, ENGL 692, and ENGL 324, which he taught last fall. The first course has the rubric "Robert Johnson, the Devil's Music, and the Blues," a direct outgrowth of his book project. His project offers a series of explorations into the role played by the devil figure within an evolving blues tradition, and Gussow said it is complete and in the revision stage now.
He also teaches graduate and undergraduate versions of a course on the blues literary and cultural tradition that he has been teaching since 1998—first at the New School and at Vassar College, then multiple times at UM. "The last time I taught the undergrad version here, in Fall 2012, I brought Bill 'Howl-N-Madd' Perry and Mark 'Muleman' Massy to my class on separate occasions," he said. "The last time I taught the grad version, in Fall 2013, I brought in Leo 'Bud' Welch. I like to think I'm following in the tradition established by Bill Ferris, who used to invite blues musicians into his classroom."
An unexpected outgrowth of Gussow's academic teaching about the blues is a 12-video series of lectures that he improvised over a two-week period in December 2012, titled Blues Talk, available online, where Gussow said, "The blues tradition isn't just about the music. It's about powerful and often conflicted feelings that circulate within the music, sourcing it decisively (many have argued) in the historical struggles of African Americans to achieve full personhood on American soil."
Whether it's for his classes or for research, Gussow also uses the Blues Archive in a range of ways. "I greatly benefit from knowing that they've got pretty much every book ever published about the blues, so I can always pop over there if there's something I don't have," he said. "They've got a matchless set of blues periodicals, too. When I needed to see the original version of Blues Unlimited with Pete Welding's interview-article about Son House, with the famous 'He must have sold his soul to the devil' to play like that quote about Robert Johnson, I was able to set eyes on it there. And Greg Johnson is always extremely helpful when I've got a specific research question."
Listening to the blues is another important aspect, and Scott Barretta's Highway 61 Radio, which airs Saturday nights at 11:00 p.m. and again on Sunday at 6:00 p.m. on MPB, delivers the best in blues music and culture from the past, present, and future. Center founding director Bill Ferris, long known as "the Blues Doctor," previously hosted the show, beginning in the mid-1980s.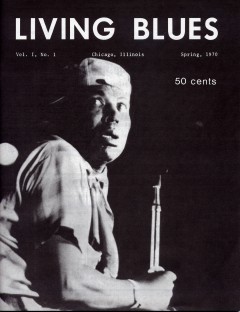 With in-depth features on blues icons as well as more obscure artists and rising stars, Living Blues magazine, edited by Brett Bonner, has provided the best in blues journalism and photography for more than 40 years, and was acquired by the Center in 1983. Bonner works with Southern Studies graduate students as interns, and many of those students, like Melanie Young and Camilla Aikin, have gone on to write for the magazine.
The Blues Today Symposium offers a way to introduce new trends in blues scholarship, reconsider past works, and engage in dialogue with contemporary blues artists. Sponsored by Living Blues since 2003, the symposium has featured a notable lineup of musicians participating in the symposium, including Little Milton, Bobby Rush, Mavis Staples, Honeyboy Edwards, and B. B. King. Past keynote presentations have featured scholars Paul Oliver, Sam Charters, Stanley Crouch, Bill Ferris, and others.
"This year we're excited to present David Evans, author of the influential Big Road Blues," said Mark Camarigg, publications manager for Living Blues. "Evans is an expert on North Mississippi blues, and his talk should illuminate and contextualize blues culture in this very distinct region."
Living Blues also partnered with Dominican University in River Forest, Illinois, a few years ago, and now the magazine co-organizes their Blues and the Spirit Conference every other year. This provides an opportunity to tap the rich history of Chicago blues culture. "We're exploring the possibility of taking our format to other universities or forums where we can focus on the blues traditions of a particular region or city, like New Orleans, St. Louis, or Memphis," Camarigg said. "There's simply a natural curiosity in people wanting to understand and appreciate local history and culture."