by James G. Thomas, Jr.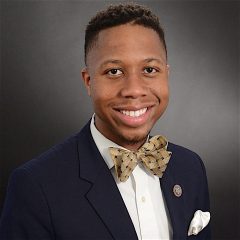 The Center for the Study of Southern Culture is pleased to announce that Bobby J. Smith II is the first recipient of the Study the South Research Fellowship. The award provides the opportunity for funded research in the collections of the Department of Archives and Special Collections at the J. D. Williams Library at the University of Mississippi.
"We received dozens of research applications, from published scholars to masters students from abroad," said James G. Thomas, Jr., editor of Study the South. "The committee was very impressed with the quality of proposals, and we look forward to hosting Smith here on campus. We'll pay close attention to the publication paths of many of the applicants' work, and we hope to engage with those who are able to visit the archives here."
Smith's research agenda is located at the intersection of sociology, African American studies, food studies, agriculture, and history. "The Study the South fellowship will enable me to conduct primary research that will allow me to examine the relationship between food, power, and opposition to the civil rights movement in Mississippi," Smith said. "This project is an extension of my dissertation work and departs from the traditional line of civil rights inquiry that usually focuses almost exclusively on proponents of the movement. By shifting our prefigured gaze from proponent to opponents, I hope to illuminate how food was used as a weapon against the movement and to create a more complete picture of the civil rights era that could inform contemporary struggles with Mississippi politics that impact issues of food access, poverty, and hunger throughout the state and beyond."
Smith recently defended his dissertation in the Department of Development Sociology at Cornell University and has accepted the Chancellor's Postdoctoral Research Associate position in the Department of African American Studies at the University of Illinois at Urbana-Champaign. His dissertation repositions food narratives in civil rights historiography to extend what we know about the American civil rights era and to inform contemporary struggles around food justice and food sovereignty in the United States. Specifically, his work focuses on how food was a weapon of opposition and a tool of resistance in the Mississippi Delta during this era. It also focuses on amplifying the voices of contemporary activists in rural areas and their connections to food narratives in the civil rights movement. He graduated summa cum laude with a Bachelor of Science degree in agriculture, with a focus on agricultural economics from Prairie View A&M University, and he earned a Master of Science degree in agricultural economics from Cornell University.
Study the South, founded in 2014, exists to encourage interdisciplinary academic thought and discourse on the culture of the American South, particularly in the fields of history, anthropology, sociology, music, literature, documentary studies, gender studies, religion, geography, media studies, race studies, ethnicity, folklife, and art. Visit the journal at www.studythesouth.org.