This article, by James G. Thomas, Jr., originally appeared in the Summer 2015 issue of the Southern Register. Click here to check out more from the Register.
Special-Topics Classes Focus on Peace, Space, and Place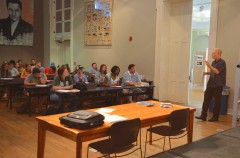 Each year the incoming class of Southern Studies graduate students is required to take the introductory reading and research seminar SST 601 in addition to two other classes, which may include SST 533: Documentary Photography and Oral History, SST 534: Studies in Documentary Field Work, or SST 555: Foodways and Southern Culture, among an number of other courses across various disciplines. Occasionally, faculty members teach classes for the first time as special topics, generally on timely topics or topics that are particularly relevant to their field or research. Sometimes these classes are taught again, but only periodically. This fall, the Southern Studies program is offering two such special-topics graduate-level seminars.
The first course, SST 598: Peace and Southern Culture, will be taught by Center Director Ted Ownby. In a region that is often defined by violence and conflict, instances of peace and nonviolent protest are often understood as reactions to events rather than stimuli independent of particular causes. In Peace and Southern Culture, Ownby wants to challenge students to consider peace as action, not merely as response.
"I started thinking about the class as a way to respond to issues of violence and race, most obviously the moments of crisis in the news in the past year," he said. "We spend a lot of time defining Southern Studies through its problems, and it makes sense to do that. And violence is one of those problems. But I wanted to teach a Southern Studies class that focuses on problem-solvers, and particularly on people who pursue peace as a positive good for individuals and society, not just those who work for peace as an end to war and other violence. So my syllabus will say something about studying the language of peace and the timing of peace—do activists bring up peace as the ultimate goal of their work, as part of the methods of their work, or in other ways."
Students in the class will have the opportunity to study anti-lynching activists, such as Ida B. Wells; antiwar workers organizations, such as the Industrial Workers of the World; and, of course, people who defined and embraced nonviolent forms of protest, such as Martin Luther King Jr., who, in his 1964 Nobel Peace Prize acceptance speech claimed, "I refuse to accept the view that mankind is so tragically bound to the starless midnight of racism and war that the bright daybreak of peace and brotherhood can never become a reality."
Ownby said that the class will "study people who say peace comes through justice and inclusiveness, and those who say that peace only comes from social order and well-armed people in authority. We'll study ideas and practices about peace and religion and study efforts to stop violence in various settings. I hope class offers a way to think about the South and world affairs." Texts for the class will include Laura Edwards's The People and Their Peace, Jacquelyn Dowd Hall's, Revolt against Chivalry, Jeanette Keith's, Rich Man's War, Poor Man's Fight; Simon Hall's, Peace and Freedom; Jonathan Bass's, Blessed Are the Peacemakers, among others.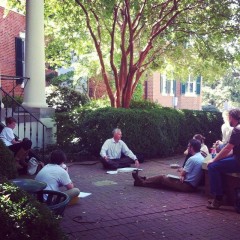 The second class offered is SST 536: The Southern Environment: A Survey of Space and Place, which will be taught by Andy Harper, director of the Southern Documentary Project and instructional assistant professor of Southern Studies and journalism. According to Harper, students in the class will look at the ways the Southern environment has been discussed in scholarship, literature, film, music, and art.
Though Harper directs the Southern Documentary Project, his graduate school training was primarily in conservation and environmental history. "Teaching a course on the Southern environment allows me to stay active in the field and also to expose Southern Studies students to that approach to learning about their region," he said. "One of the ways that I encourage students to think about place is by forcing them to spend time in and write about their own special places. It seems like a silly assignment at first, until they let down their guards and allow themselves to be swallowed up in that place. Once I get them to that point we are all ready to learn."
Approaches to understanding a place and the spaces people occupy can include examinations of communities, of families, and of physical spaces within nature. "Studying place and space is always integral to understanding regional history," said Harper, "but particularly so today, given the profound and rapid changes to the physical world around us." Students in the class will be encouraged to explore both their own places of origin and unfamiliar spaces occupied by others in the region.
The Southern Environment: A Survey of Space and Place will provide students with a broad range of texts from a variety of sources. "We'll look to writers who feature natural and built environments as characters in their art—people like Janisse Ray, Rick Bass, Tom Franklin, Natasha Trethewey, Jake Adam York, William Faulkner. I also like to sprinkle in documentary films by Les Blank and Errol Morris along with some SouthDocs films and also some narrative films like Beasts of the Southern Wild and Mud."
The first day of the fall semester begins on August 24, 2015.