We are halfway through the semester, and the SouthTalks offer several interesting lectures.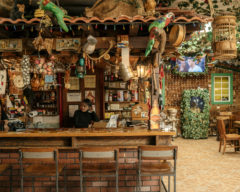 At 4 p.m. on Thursday, March 24 for this virtual event, Annemarie Anderson, Simone Delerme, and Kelly Spivey present the Summer Avenue Oral History Project. Summer Avenue, a six-mile section of US Highway 70, one of the first paved, signed highways in the US, has been known by a number of names over the years — the Broadway of America, Bristol Highway, and most recently, Nations Highway. But for the market owners, restaurateurs, and retail owners in this oral history collection, Memphis is simply home.
During this SouthTalk, attendees will hear from the three collaborators who collected these oral histories. They will screen short documentaries featuring some of the restaurateurs, market owners, and retailers interviewed for this project, which were filmed by Spivey, a documentarian living and working in Memphis, Tennessee who earned a B.F.A. in photography from SCAD, and both an M.A. in Southern Studies and an M.F.A. in Documentary Expression from the University of Mississippi.
Anderson is the oral historian for the Southern Foodways Alliance. She manages and conducts oral history work throughout the South. Delerme joined the University of Mississippi's Department of Sociology and Anthropology and Center for the Study of Southern Culture in the fall of 2013. She specializes in migration to the US South, with interests in race relations, integration and incorporation, community development, and social class inequalities. This event is cosponsored by the Southern Foodways Alliance and the Center for the Study of Southern Culture.
South Carolina-based photographer Sam Wang presents "Persistent Discoveries" Photography Exhibition and Talk virtually at noon March 25. Photographer Sam Wang will discuss his current Photography Exhibition and Documentary Film screening at the Oxford Film Festival. There will be a discussion between Wang, South Carolina-based photographer and Clemson University Distinguished Professor Emeritus of Visual Arts, John Rash, Southern Documentary Project producer/director, and Brooke White, Professor of Art/Area Head of Imaging Arts at the University of Mississippi. The discussion will focus around the current retrospective exhibition of Wang's photographs on display in the Gammill Gallery in Barnard Observatory and the short film about him screening on March 26 at the Oxford Film Festival. Rash curated the exhibition and also produced the accompanying 25-minute documentary film about Wang which have been traveling together in exhibition across the South since October 2021.
On Monday, March 28 at noon, Nancy Bercaw presents "Listening to Mississippi: Displaying the Defaced Emmett Till Historical Marker at the Smithsonian" in the Tupelo Room of Barnard Observatory.
In 2019, two Smithsonian curators spent several weeks in Mississippi to see if they could ethically display the defaced Emmett Till marker in Washington, D.C.  After listening to culture workers and learning from Tallahatchie County residents, they co-curated an exhibit with their Mississippi partners titled "Reckoning With Remembrance: History, Injustice, and the Murder of Emmett Till."  The exhibit process reflects the ethos of the museum's Center for Restorative History that builds on the principles of restorative justice to redress historical harms.
Nancy Bercaw is a curator and the deputy director for the Center for Restorative History at the Smithsonian's National Museum of American History (NMAH).  She came to NMAH after curating the landmark Slavery and Freedom exhibition at the National Museum of African American History and Culture in 2016.  At NMAH, her work focuses on creating space for histories excluded from the national narrative.  Her recent exhibits include Girlhood (It's complicated) and Reckoning with Remembrance: History, Injustice, and the Murder of Emmett Till.  She taught at UM for 15 years before becoming a public historian.
Annette Trefzer, an Ole Miss professor of English, examines "Eudora Welty's Photographic Vision" at noon April 13. Acclaimed writer Eudora Welty was also a talented photographer, yet the prevalent idea remains that she simply took snapshots before finding her true calling as a fiction writer. But who was Welty as a photographer? What did she see? How and why did she photograph, and what did Welty know about modern photography?
In this presentation, Trefzer answers these questions by exploring Welty's photographic archive.
Trefzer is the author of "Exposing Mississippi: Eudora Welty's Photographic Reflections" and "Disturbing Indians: The Archaeology of Southern Fiction." She also is co-editor of five volumes in the Faulkner and Yoknapatawpha Series published by the University Press of Mississippi.
Researcher and author Joseph Ewoodzie Jr. presents "Getting Something to Eat" at noon April 14 in Auditorium 124 of the Gertrude C. Ford Ole Miss Student Union. Ewoodzie spent more than a year in Jackson following a group of socioeconomically diverse African Americans – from upper-middle-class patrons of the city's fine-dining restaurants to men experiencing homelessness who must organize their days around the schedules of soup kitchens.
He went food shopping, cooked and ate with a young mother living in poverty and a grandmother working two jobs. He worked in a Black-owned BBQ restaurant and met a man who decided to become a vegan for health reasons but must drive across town to get tofu and quinoa. He learned about how soul food is changing and why it is no longer a staple survival food.
In his SouthTalk, Ewoodzie presents these findings to show how food choices influence, and are influenced by, the racial and class identities of Black Jacksonians. He demonstrates how "foodways" – food availability, choice and consumption – vary greatly between classes of African Americans in Jackson and how this reflects and shapes their very different experiences of a shared racial identity.
Ewoodzie's book, "Getting Something to Eat in Jackson: Race, Class, and Food in the American South," provides a portrait of African American life in the urban South and uses food to explore the complex interactions of race and class. This event is cosponsored by the Center for Inclusion and Cross Culture Engagement.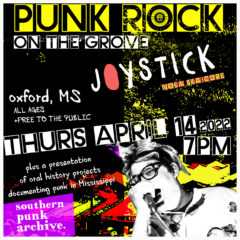 Also on April 14 at 7 p.m. the Southern Punk Archive will host Punk Rock in the Grove with Joystick, a New Orleans ska core band, and a presentation of student oral history projects documenting punk in Mississippi.
For special assistance relating to a disability for any of the SouthTalks events, contact Afton Thomas at amthoma4@olemiss.edu or by phone at 662-915-3363.