Southern Studies Film Series at Shelter Presents Center Documentary Work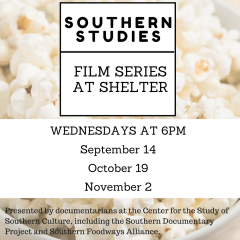 On three Wednesdays this fall, the Center is partnering with Shelter on Van Buren to screen films made by Center institutes the Southern Documentary Project and the Southern Foodways Alliance. The first screening is this Wednesday, September 14 at 6pm, and will include a screening of Longleaf by Rex Jones and Otha, made from archival footage by Ava Lowrey from the Southern Foodways Alliance.
The dates for the series are September 14, October 19, and November 2.
Watch an excerpt from Longleaf here, featuring Janisse Ray discussing the literal and metaphorical meaning of heart pine.