Southern Hip-Hop Week: Day 4 – Darren Grem on Atlanta's Dirty South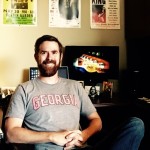 The following article, by Assistant Professor of History and Southern Studies Darren Grem, was originally published in Southern Cultures, Volume 12, Number 4, Winter 2006, pp. 55-73.
Thank you to Southern Cultures for permission to share the article. (And check out their new, just launched southerncultures.org site. So fresh, so clean).
---
And as a Hip-Hop Week bonus, listen to our Sounds of the South radio clip, taken from the Music volume of The New Encyclopedia of Southern Culture. The article was written by Matthew Miller of Emory University, and the clip was edited for radio and read by Nelson Griffin while a Southern Studies graduate student, circa 2009.