Melanie Ho plans to use award to network with other emerging storytellers and hone skills
Melanie Ho, producer-director at the Southern Documentary Project and an adjunct assistant professor in the University of Mississippi's Center for the Study of Southern Culture, has enjoyed many accolades the past few months.
First, NeXtDoc, a national group of emerging young documentary filmmakers, named her one of its fellows. And more recently, the Gotham Film and Media Institute and HBO Documentary Films announced Ho as a member of the inaugural cohort for their Documentary Development Initiative.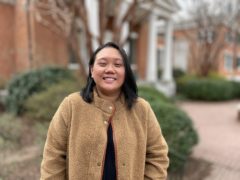 The NeXtDoc fellowship is a yearlong national program that brings together emerging nonfiction storytellers between the ages of 21 and 25 from diverse backgrounds with award-winning filmmakers to learn, share and build their skills.
"NeXtDoc builds a community for documentary filmmakers to learn and grow together while sharing resources for us to challenge current institutions of documentary," said Ho, a Vietnamese American filmmaker and writer from Florida who has worked with SouthDocs since 2021.
"It started with a one-week Vermont retreat and will continue with monthly meetings focusing on master classes on all aspects of filmmaking."
The retreat, in September 2022, helped Ho grow both as a person and as a creator. Not only was the week an opportunity to rest and enjoy food prepared by filmmaker Maya Suchak, it was also a way to talk about creating an ecosystem for documentary rather than an industry.
"To me, it was a space of support and intentionality, carefully created by Darian Henry and Bhawin Suchak," Ho said. "I was really excited that Zac Manuel and Cai Thomas shared their work as well, which encourages me to continue seeking collaboration."
Ho is one of 10 NeXtDoc fellows, and says she already knew one of them, Nash Consing, from a fellowship where they were both the inaugural fellows of CAAM + NOVAC The Sauce fellowship, so she appreciated spending time with an important friend.
"One of my favorite parts was just getting to know the fellow fellows, hearing their stories and being in solidarity with them – feeling heard and seen and finding connection in our experiences," she said.
Andy Harper, director of the Southern Documentary Project and instructional assistant professor of Southern studies, said he is not surprised to see Ho honored as one of the nation's top emerging storytellers.
"Melanie approaches each project with collaboration in mind so seeing her placed alongside such an impressive cohort of storytellers only confirms to the world what those of us in SouthDocs and the Center for the Study of Southern Culture get to see each day working beside her," Harper said.
The Documentary Development Initiative was designed to bolster storytellers who identify as Black, Indigenous or people of color; LGBTQ+; and/or storytellers with disabilities, by providing them with resources necessary to develop thought-provoking, character-driven, contemporary ideas for documentary films and limited series.
Besides one-on-one mentoring, each of the selected filmmakers will be given a $50,000 grant sponsored by HBO Documentary Films, OneFifty and WBD Access for research and creative development on new documentary projects, with select grantees to be presented with the opportunity to receive additional funding.
The Gotham/HBO fellowship kicked off with a virtual meeting for fellows and mentors to get to know one other.
"It's been valuable for me thus far because I'm getting exposed to and learning to navigate a documentary space that I thought wasn't accessible to me," Ho said. "I've been able to share and get feedback on the ideas that I want to pursue while getting exposed to other fellows' ideas, which excite me.
"I also appreciate getting to have meetings with documentary filmmakers who are further along in their careers and learning about their process and experiences while making films."
Written by Rebecca Lauck Cleary. A version of this article appeared in the Winter 2023 Southern Register.