Shake 'Em on Down, a Film by Joe York and Scott Barretta Selected for the Southern Circuit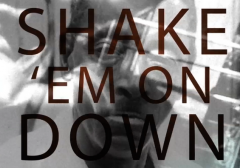 Shake 'Em on Down: The Blues According to Fred McDowell, a SouthDocs film by Joe York and Scott Barretta, has been selected as a 2016 Southern Circuit film.
Shake 'Em On Down is a one-hour documentary film which aims to tell the story of Fred McDowell, who was first recorded by Alan Lomax in 1959, traveled to Europe with the Rolling Stones in the mid-1960s, mentored Bonnie Raitt, and served as the cornerstone of the unique and enduring North Mississippi- style of blues music.
"Shake Em On Down" TEASER from The Southern Documentary Project on Vimeo.
Below, the South Arts press release about the Circuit:
June 8, 2016, Atlanta, GA – South Arts has announced the eighteen films that will tour with the 2016-2017 Southern Circuit Tour of Independent Filmmakers. Films were reviewed by a panel of industry experts with final selections determined by screening partners who will present films in their communities. Invited films and filmmakers were chosen from 412 films submitted from across the country.
"Our 2016-2017 slate of Southern Circuit films includes thought-provoking documentaries, inspiring dramatic narratives, and an amusing experimental film. We are excited to screen this impressive collection of films. Audiences will discover the work of an incredible group of filmmakers," stated Teresa Hollingsworth, Senior Director, Film and Traditional Arts.
The selection of films and filmmakers are:
'6 Angry Women' by Sridhar Reddy
'Agents of Change' by Frank Dawson and Abby Ginzberg
'Almost Sunrise' by Michael Collins
'Art of the Prank' by Andrea Marini
'Donald Cried' by Kris Avedisian
'Hotel Dallas' by Sherng-Lee Huang and Livia Ungur
'Hunky Dory' by Michael Curtis Johnson
'I Come From' by Robby Henson
'Mango Dreams' by John Upchurch
'Maya Angelou: And Still I Rise' by Bob Hercules and Rita Coburn Whack
'Mind/Game: The Unquiet Journey of Chamique Holdsclaw' by Rick Goldsmith
'NUTS!' by Penny Lane
'Shake 'Em on Down' by Joe York
'SHU-DE! (Let's Go)' by Michael Faulkner
'Some Beasts' by Cameron Nelson
'Speed Sisters' by Amber Fares
'The IF Project' by Kathlyn Horan
'TYRUS' by Pamela Tom
Southern Circuit is the South's only tour of filmmakers, providing communities with an interactive way of experiencing independent film. Southern Circuit provides organizations with the opportunity to screen work from emerging filmmakers and some of the medium's most respected directors. Screenings are scheduled September 2016 through April 2017 throughout the South Arts nine-state region. In the upcoming weeks, please visit the Southern Circuit Tour of Independent Filmmakers website for complete tour dates, venue information, and promotional materials.
Screening partners for the forthcoming Southern Circuit season include: the Arts Council of Central Louisiana, Alexandria, LA; Broward College Foundation, Ft. Lauderdale, FL; City of Hapeville, Association of Trade & Tourism, Hapeville, GA; City of Roswell, Roswell, GA; Crossroads Film Society, Jackson, MS; Florida State University, Tallahassee, FL; Georgia Southern University, Statesboro, GA; Jacksonville State University, Jacksonville, AL; Jule Collins Smith Museum of Fine Art, Auburn University, Auburn, AL; Mary B. Martin School of the Arts, East Tennessee State University, Johnson City, TN; Miami-Dade County Department of Cultural Affairs, Cutler Bay, FL; North Central Louisiana Arts Council, Ruston, LA; Oxford College of Emory University, Oxford, GA; Presbyterian College, Clinton, SC; The Tennessee Valley Art Association, Tuscumbia, AL; Troy University, Troy, AL; Tropic Cinema/Key West Film Society, Key West, FL; Union College, Barbourville, KY; Union County Community Arts Council, Wingate, NC; Western Carolina University, Cullowhee, NC; and Winder Cultural Arts Center, Winder, GA.
The Southern Circuit Tour of Independent Filmmakers is a program of South Arts. Southern Circuit screenings are funded in part by a grant from South Arts in partnership with the National Endowment for the Arts.
About South Arts
South Arts, a nonprofit regional arts organization was founded in 1975 to build on the South's unique heritage and enhance the public value of the arts. South Arts' work responds to the arts environment and cultural trends with a regional perspective. South Arts offers an annual portfolio of activities designed to address the role of the arts in impacting the issues important to our region, and to link the South with the nation and the world through the arts. For more information, visit www.southarts.org.