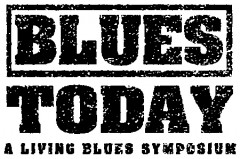 Mark Camarigg of Living Blues magazine with news of the 2015 Blues Today Symposium, this year focused on North Mississippi Hill Country Blues.
Since 2003, Living Blues magazine has sponsored the Blues Today Symposium each spring on the University of Mississippi campus.  The Symposium has featured such keynote speakers as Paul Oliver, Samuel Charters, and Bill Ferris as well as intimate musical performances by Honeyboy Edwards, Little Milton, and B.B. King.
The 2015 Blues Today Symposium will be Thursday, April 9, 2015 at the University of Mississippi. The program's theme, "North Mississippi Hill Country Blues," will focus on the region's distinctive blues sound and culture.
David Evans, director of the ethnomusicology/regional studies doctoral program of the Rudi E. Scheidt School of Music at the University of Memphis, will deliver the keynote address. Evans is a specialist in American folk and popular music, particularly blues, spirituals, gospel, and African American folk music. He is the author of Tommy Johnson (1971), Big Road Blues: Tradition and Creativity in the Folk Blues (1982) and The NPR Curious Listener's Guide to the Blues (2005). Evans has also produced more than 30 albums and CDs of field and studio recordings of music for the University of Memphis's High Water Records. In 2003 he won a Grammy Award for "Best Album Notes."
George W. K. Dor, holder of the McDonnell-Barksdale Chair of Ethnomusicology and associate professor of music at the University of Mississippi, will lead a discussion on drums in the North Mississippi region. The University Press of Mississippi published Dor's most recent book, West African Drumming and Dance in North American Universities: An Ethnomusicological Perspective, in 2014.
Additionally, filmmakers Joe York and Scott Barretta will preview portions of their upcoming documentary feature film on Como, Mississippi's legendary blues artist Fred McDowell. The duo will also discuss the process of documentary filmmaking. Earlier, Greg Johnson, curator for the Blues Archive in the Department of Archives and Special Collections at the University of Mississippi, will highlight holdings in the archive, featuring numerous North Mississippi blues musicians.
The symposium coincides with Clarksdale, Mississippi's annual Juke Joint Festival (April 10­–12) providing attendees an opportunity to see and hear dozens of musicians from the region.
In the coming months, additional details about the symposium program will be available on this page.
For more information, contact Mark Camarigg at mark@livingblues.com.