A preview of the new issue from Brett Bonner and Melanie Young of Living Blues.
October/November Issue of LIVING BLUES Out Now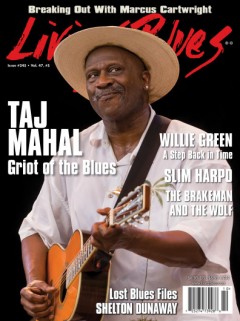 The October/November 2016 issue of Living Blues features the griot of the blues Taj Mahal on the cover. At age 74 Taj Mahal is one of the biggest stars in the blues today. His musical and cultural knowledge is vast and his desire to share this lifetime of knowledge is his enduring legacy. Florida bluesman Willie Green has not received much attention outside of Florida but that doesn't mean he is not the real deal. His blues sound takes you back to a time many think is long gone—but musicians like Green prove it is not. Howlin' Wolf biographer Mark Hoffman follows the trail of new evidence about the connection between the Singing Brakeman Jimmie Rodgers and Howlin' Wolf. We also feature an excerpt from Louisiana writer Martin Hawkins' new biography of the King Bee himself, Slim Harpo. Twenty-four year old guitarist Marcus Cartwright is the focus of our Breaking Out column, and former Cookie and the Cupcakes saxophonist and vocalist Shelton Dunaway is the subject of Lost Blues Files. Living Blues #245 also includes a talk with pianist Barrelhouse Chuck, Blues News, the Radio Charts for July and August and the latest CD reviews. Digital and print subscriptions to Living Blues start at just $18.00 and are available at www.livingblues.com.