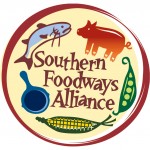 All this week the Southern Foodways Alliance blog will present oral histories from a new project on Houston, Texas.  Amy C. Evans, in her last marvelous act as SFA Senior Oral Historian, looked at how Asian restaurants were redefining Houston foodways.
Check out the the project page.  Like all SFA oral history projects, the interviews include a full transcript, video and sound clips, and photographs.
We miss Southern Studies alum and friend Amy, but are proud that she's still telling stories.  Check out her new website, which involves both art and pie.