Job Posting: Publications Manager for Living Blues Magazine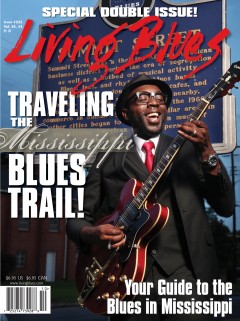 The Center for the Study of Southern Culture seeks applicants for the position of Manager of Publications at Living Blues magazine.
Below, a description of the job's tasks. See the full job description and apply on the UM Human Resources website.
EXAMPLES OF WORK PERFORMED
Develops and maintains rosters of regular and potential domestic and international distributors for Center publications.
Manages subscription services and databases for Center publications. Ensures that subscriptions to Center publications are properly serviced. Oversees data entry of new and renewal subscriptions, mailing of renewal notices, and printing of mailing labels for publications.
Calculates print quantities required to meet distribution needs for publications. Provides all shipping and mailing instructions to contracted mailer.
Manages inventory and delivery of ancillary products related to Center publications. Coordinates production and printing of all peripheral material relating to Center publications, including insert cards, renewal notices, invoice forms.
Determines marketing budgets for Center publications based on strategic planning. Prepares statistical reports and analyses reflecting operations of Center publications, setting forth progress, adverse trends, and appropriate recommendations for action.
Plans, develops, and implements various publicity campaigns or programs intended to enhance the Center's publications. Coordinates publication visibility during special events to ensure proper representation and exposure.
Manages all general administrative activities of the publications office, including clerical and physical plant management. Responsible for alarms, supplies, office equipment (including copier, fax, and computers), telephone, and all physical plant related issues.
Manages accounting functions associated with Center publications, including cash reports, deposits, receipts, billing, and bids for services.
Supervises and trains subordinate staff, including graduate assistants and student workers.
Performs similar or related duties as assigned or required.
ESSENTIAL FUNCTIONS
These essential functions include, but are not limited to, the following. Additional essential functions may be identified and included by the hiring department.
1. Manages subscriptions, administrative activities, accounting functions, and the publications distribution process for publications.
Markets publications to distributors and individuals, and develops and implements plans to increase circulation.
2. Supervises and trains subordinate staff.
3. Manages, develops, and maintains subscription and distributor databases, and Living Blues website.
4. Provides customer service.