New MISSISSIPPI STORY on the Jewish Community of Natchez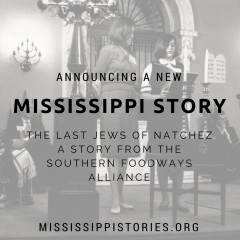 There has been a Jewish community in Natchez, Mississippi for 175 years—and Robin Amer's family has been part of it for 160 of them. But now the number of Jews in Natchez has dwindled to only a handful. In this audio story, Robin returns to learn what culinary culture might disappear when they're gone.
This story originally aired on Gravy, the podcast of the Southern Foodways Alliance based at the Center for the Study of Southern Culture.