New Mississippi Story by SST Alum Mary Blessey – Teaching Photography in Tutwiler

We've just published a new MISSISSIPPI STORY on our documentary media website, mississippistories.org.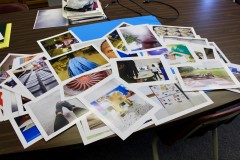 In 2015, Southern Studies graduate student Mary Blessey taught a digital photography class to children ages 9-12 enrolled in the summer program at Tutwiler Community Education Center in Tutwiler, Mississippi. Blessey completed this work as part of her fellowship with the McLean Institute for Public Service and Community Engagement.
The children used small point-and-shoot cameras provided by TCEC. All photographs were taken either inside the community center or during walks in the surrounding neighborhood. Sometimes, the children were given prompts based on their lessons, such as: "Take a picture of something you think is important"; "Take a picture using the 'Rule of Thirds'"; or "Take a picture of a bright color." The rest of the time, the kids were sent out to explore the community center and photograph whatever they wanted.