A preview of the February/March issue of Living Blues from Publications Manager Melanie Young.
New LIVING BLUES Magazine Out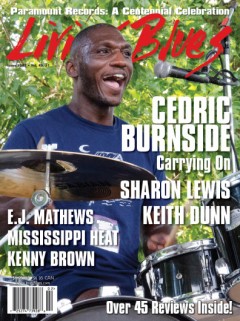 The February/March 2017 issue of Living Blues features Hill Country bluesman Cedric Burnside on the cover. The grandson of the late R. L. Burnside, Cedric's star is on the rise, and he is dedicated to keeping the sound of the Hill Country alive. Guitarist Kenny Brown was also raised in the tradition, and he shares his memories of playing with the Burnsides, Junior Kimbrough, Joe Callicott and others.
Chicago vocalist Sharon Lewis is another artist poised to make a big break, as she is finally coming into her own as one of the Windy City's premier blues singers. Boston native Keith Dunn has made his home in Rotterdam, Denmark for over 30 years, and though largely unknown in the States, that doesn't make his music any less powerful.
In this issue, we also launch a series of articles celebrating the 100th anniversary tribute to Paramount Records, so be sure to watch for these pieces over the course of the year. Texas bluesman E. J. Mathews is the focus of our Breaking Out column, and we also talk with Mississippi Heat band members Pierre Lacocque and Inetta Visor.
Living Blues #247 also includes Blues News, the Radio Charts for November and December and the latest CD, LP and book reviews. Digital and print subscriptions to Living Blues start at just $18.00 and are available at www.livingblues.com.