The Gammill Gallery currently has an exhibit of photographs by Jim Lucas, taken between 1964 – 1968.  The photos document the search for civil rights workers James Chaney, Andrew Goodman, and Michael Schwerner, James Meredith's 1966 March for Freedom, Robert F. Kennedy's trip to the Delta, and others.

The exhibit is from Delta State University's Archives and Museum and was created and curated by Jane Hearn, who was married to Lucas at the time of his death, and Red Morgan, photojournalist and commercial still photographer.
The Gammill Gallery, located in Barnard Observatory, is free and open to the public from 9am to 5pm Monday – Friday.
Here, Delta State's release about the exhibit.
Jim Lucas: Photographs of the Civil Rights Movement in Mississippi, 1964-1968
Lucas, a student during the early sixties was an outstanding photographer having progressed from carrier boy to photographer and lab man for the local newspaper. In 1959, at the age of 14, his first photo was published in the Jackson Daily News.
His craft with the camera led him to take photographs all during his years at Murrah High School and Millsaps College where with professional photojournalistic style he was as much school documentarian as he was student.
In 1964 Lucas was a student at Millsaps when the nation was focused on Mississippi and the search for Schwerner, Goodman and Chaney, civil rights workers missing in Neshoba County. During those turbulent times these events drew national press to Jackson and Lucas had the opportunity to meet and assist film cameramen from CBS news. Using his still camera he tried never to miss a visual story of his own and soon became a "stringer" for UPI and Time and Life magazines.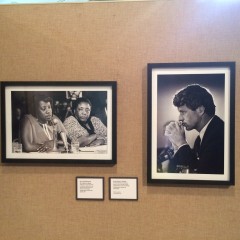 In 1968, Jim Lucas was drafted and spent his basic training in the Army at Fort Campbell, KY, afterward with special training in the Army Signal Corps at Fort Monmouth, NJ. During his deployment in Vietnam he shot non-combat footage for the Army gaining experience and commitment for his future career as a film cameraman. In 1969 he was distinguished by the DOD as the Military Newsfilm Motion Picture Photographer of the Year.
Upon his return to Jackson in 1973 he pursued a variety of freelance film jobs including commercial advertising, football filming, and freelance newsreel work for UPI and NBC. A highlight of his career was shooting several stories for "60 Minutes." His first job on a feature film was Robert Altman's "Thieves Like Us" as an electrician and his goal became to work on feature films as Director of Photography.
During the next years Jim's career included television and feature film work, almost always outside of Mississippi, including films such as "Honeysuckle Rose," "The Long Riders," "Brubaker," and "The Border." He became known for the excellence of his technical ability and advanced to Camera Operator and Second Unit Director of Photography. While on location with the film "Barbarosa" he was in a fatal automobile accident. He died October 19, 1980.
The Lucas Collection includes an extensive number of negatives, prints, personal narratives, and a cache of memorabilia. The exhibit is a sample of images Lucas made during the civil rights movement and includes images of the search for the three missing civil rights workers, as well as other events such as the James Meredith March for Freedom in 1966, the Wharlest Jackson funeral in Natchez in 1967, and the Senate Hearings to Evaluate Poverty in Jackson in 1967 with the subsequent trip by Senator Robert Kennedy to the Mississippi Delta.
This exhibit was created and curated by Jane Hearn who was married to Lucas at the time of his death and Red Morgan, photojournalist and commercial still photographer. Their ongoing collaboration aims to archive Lucas' extensive collection, and pay tribute to a passionate and skillful young photographer who grasped the significance of the events around him and conveyed his point of view in sensitive visual language.